It's new iOS game release time, and get your iTunes login pressin' finger ready because there's quite a lot of new games tonight, as well as a few that came out earlier in the week and this past weekend. You have classic PC game Little Big Adventure, Supercell's latest Boom Beach, the quirky barcode scanning game Barcode Kingdom, the all-in-one digital puzzle solution Ravensburger Puzzle, and a lot more. Basically, a little something for everyone. Eli streamed many of these on our Twitch channel earlier today, and those clips have been embedded below for your viewing pleasure.
---
Bad Student Driver
iTunes Description
Are you the best worst student driver? Can you earn your license?

Drive your car as far as you can down the road, avoiding the traffic cones and the curb as you veer to the right, then to the left, and back again. Does your car badly need a front-end alignment, or are you just that bad of a driver? We're not sure, but the results are hilarious!
Forum Thread: Bad Student Driver (by P1XL)
---
Barcode Kingdom
iTunes Description
Scan barcodes, Get unique units and items! Build your own kingdom.

The world named 'Barcodia' is comprised of the magical power of barcodes. Barcodes in the real world is a magic circle that transmit the magical power from the real world to 'Barcodia'. The barcodes around you will become your army. Summon various units and items, and make the strongest army. Share good barcodes and fight against the monsters with your friends.
Forum Thread: Barcode Kingdom (by Magic Cube)
---
Boom Beach
iTunes Description
Storm the beach and win the day! Boom Beach is a combat strategy game where you fight an epic war against the evil Blackguard. Take your expeditionary force to beautiful paradise islands invaded by the enemy. Fight for every beachhead, free enslaved islanders and explore the uncharted archipelago. The fight becomes a race to harness the ancient powers hidden on the islands. Are you ready for the BOOM?
Forum Thread: Boom Beach by Supercell (Clash of Clans\Hay Day)
---
Chaos Fighters
iTunes Description
Choose from hundreds of unique fighters to battle your way to greatness in Chaos Fighters. Deep customization mechanics allow for endless combinations of fighters, skills, equipment, and pets.

Arenas, world PvP tournaments, guilds, mercenaries, pets, astrology, PvE dungeons, and adventuring provide endless entertainment. Join the world of Chaos Fighters today!
Forum Thread: Chaos Fighters (by Coco Entertainment International)
---
Clarc
iTunes Description
CLARC. An actiony puzzle adventure. With drunk robots.

CLARC combines complex spatial puzzles with arcade style action elements.
As the story unfolds, the nerdy janitor robot Clarc will encounter partying robots, attractive nuclear missiles and intoxicated supercomputers. He sets out to repair his production facility on Mars and fights to rescue his friends from the intruding spaceship M.O.T.H.E.R. who threatens to disarm the factory.

CLARC's grid-based gameplay, challenging puzzles and tight controls will give you the retro feel of your first console.
Forum Thread: CLARC (by Matthias Titze)
---
DJ Max Technika Q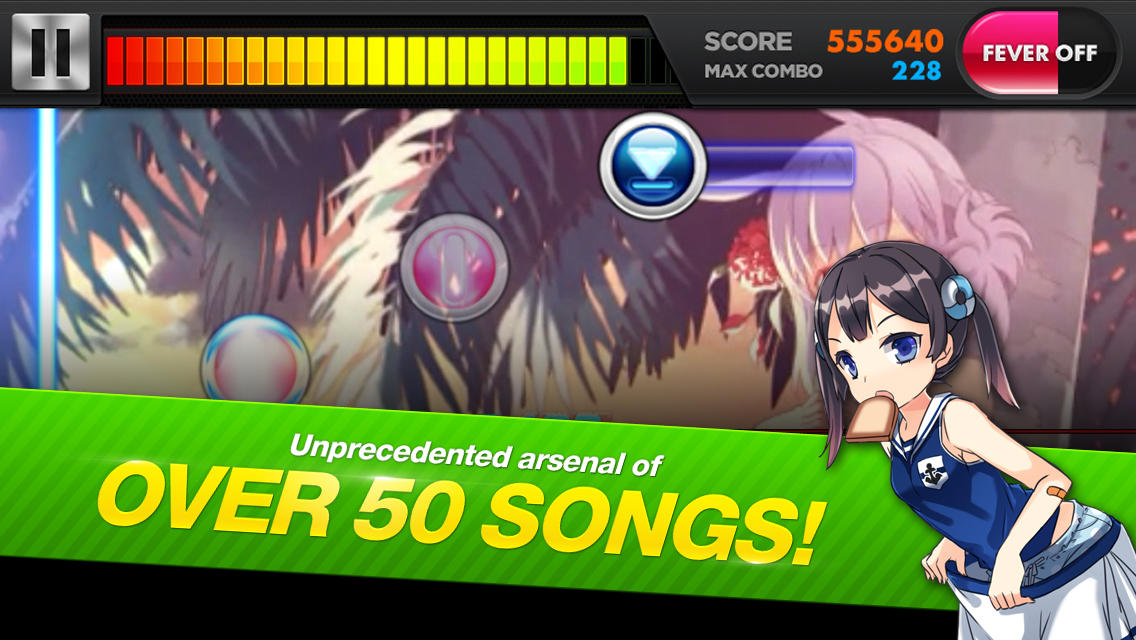 iTunes Description
Get your groove on in the latest addition to the DJMAX series. The HIT arcade and console rhythm action game, TECHNIKA, has now arrived on mobile devices! In this edition, you can enjoy not only the songs from the DJMAX series but also play exclusive songs featured only in TECHNIKA!
Forum Thread: DJMAX TECHNIKA Q (by NEOWIZ Internet Corp.)
---
Dungeon Marauders
iTunes Description
Dungeon Marauders is a Dungeon Delving Digital Card Game that allows you to build your dungeon from the ground up and delve into the worlds created by other users. Capture Monsters in The Wilds to customize your creation, then build your deck by earning gear and experience to shore up your hero's arsenal and skill set.
Forum Thread: Dungeon Marauders (by SPQR Soft LLC)
---
Firework Apprentice
iTunes Description
Dive into the fantastic world of floating islands and help young Firework Apprentice get to the Emperor's Palace for the annual firework contest. Solve puzzles, help encountered characters, run for your life, collect Moon Powder, interact with environment, upgrade you fireworks and many more! And all this with the fireworks!

Firework Apprentice is a 3D adventure puzzle game set in fantastic world of floating islands with destructible environment. Each island has new, unique challenge for Apprentice, that can be accomplished using his fireworks (there are no repetitive stages). But in order to build his rockets, Apprentice must collect "Moon Powder" – a secret ingredient of all his fireworks!
Forum Thread: Firework Apprentice (by Lukasz Przekwas)
---
Flappy Golf
iTunes Description
Flap your way to the hole with this unique spin on our famous golf game! Using the now famous "flap" mechanic you must get to the hole in the fewest flaps as possible.

Featuring the courses from Super Stickman Golf 2®, Flappy Golf is a fun little project we put together for the Flappy Jam game jam. Can you get gold stars on all the holes?
Forum Thread: Flappy Golf (by Noodlecake Studios Inc)
---
Flashout 2
iTunes Description
FLASHOUT 2, the sequel to the highly-acclaimed anti-gravity racer FLASHOUT 3D is finally here! Get into one of many ultra-fast ships and use your arsenal of rockets, guns, bonuses and upgrades to fight your way to victory!

FLASHOUT 2 offers a fresh and addicting racing experience featuring a redesigned and enhanced Career Mode with story elements, massive improvements in matter of steering, physics, opponent's AI, and other gameplay elements, an Online Multiplayer Mode and introduces completely new and exciting game modes, such as Destruction, Elimination and Versus!

FLASHOUT 2 also features high-end console-quality graphics, some of the best and most accessible controls to allow you to focus on pure action, amazing licensed electronic music and game controllers support! Additionally the game offers a unique interactive equalizer, that analyzes in-game music and accordingly determines, in real-time, what the visual effects look like!
Forum Thread: Flashout 2 – (by Jujubee)
---
Folt
iTunes Description
Flip tiles and match colors to move your way through more than 125 challenging levels in this beautiful, minimalist puzzle game.
Forum Thread: Folt (by Nonverbal)
---
Game of Thrones Ascent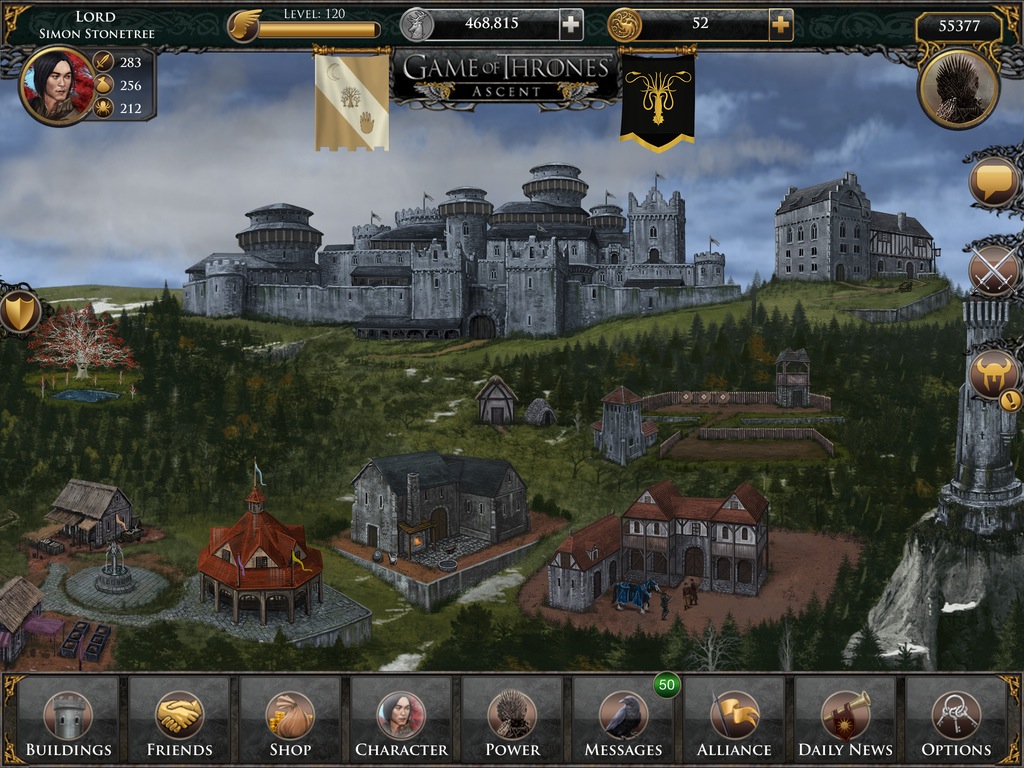 iTunes Description
The award-winning game based on HBO's Game of Thrones has come to the iPad! See what 2,500,000 players are already raving about!

Build your noble house, embark on quests and rise in power in the Strategy RPG based on the hit HBO series Game of Thrones and George R.R. Martin's novels A Song of Ice and Fire!
Forum Thread: Game of Thrones Ascent (by Kongregate)
---
GooHoo
iTunes Description
Robots have taken over the planet! GooHoo, a tiny super-weapon is humanity's only hope in the war against the giant killer robots.

Play Goohoo and travel across the city climbing inside the giant robots. Once inside, Goohoo's world is all machines, cogs and clockwork. You can change the way the inner cogs move, reflect lasers with mirrors, shut down systems, drain the bots' vital fluids and then find the detonators to blow them up, but remember to get out before you get hit by the blast!

Part platform game, part puzzler, all adventure!
Forum Thread: GooHoo (by Evil Twin Artworks)
---
Infocus Extreme Bike
iTunes Description
INFOCUS Extreme Bike is an arcade first person mountain bike downhill videogame, with challenging circuits full of speed inspired by real competitions and locations like Chile, Mexico and Bolivia.

You must descend and maneuver your bike at full speed trying to avoid obstacles using the device's gyroscope to achieve the best time you can.
Forum Thread: INFOCUS Extreme Bike (by Juan Moisés Moris Tejo)
---
Kickball Champion of the World
iTunes Description
Kickball Champion of the World is the newest thing in addictive arcade gameplay!

*Original hand drawn animation.
*Unique addictive gameplay.
*High Scores.
*Explosions.
*Original OST

You should buy it off me.
Forum Thread: Kickball Champion of the World! – (Murry Lancashire)
---
King of Shmups
iTunes Description
Become a pro mobile gamer. compete in online tournament with Skillz.

enter skillz tournament now!

"King of Shmups" is an arcade top down space shoot'em up. Kill incoming enemies before the time runs out and multiply scores with combo & chains gained from each successful kills.
Forum Thread: King of Shmups (by Illogical)
---
Land Phil
iTunes Description
Goofy and endearing, Land Phil is frantic downhill dash that combines endless and racing mechanics to create a unique experience that offers fast and furious gameplay. Keep Phil upright by braking and landing instead of speeding up and jumping! Collecting prize after prize while staying ahead of the onslaught of impending boulders makes for a very challenging and highly addictive game with plenty of replay value.
Forum Thread: Land Phil (by Bulkhead Studios)
---
Little Big Adventure
iTunes Description
Originally released on PC in 1994, Little Big Adventure (also known as 'Relentless: Twinsen's Adventure') is an action-adventure RPG designed by Frédérick Raynal. 20 years later, a new version of this entertaining video game hit is being released, specially adapted for mobile phones.

You play as Twinsen, a young hero living on Citadel Island on a world under the heel of the dictator Dr. FunFrock. You've been having strange dreams in which your planet is about to be destroyed. These dreams don't make Dr. FunFrock particularly happy, and he locks you away in an insane asylum. As Twinsen, you'll need to escape from your cell and discover your incredible destiny as a descendant of a long line of magicians in charge of protecting your planet's secret!
Forum Thread: Little Big Adventure – (by DotEmu)
---
Loco Motors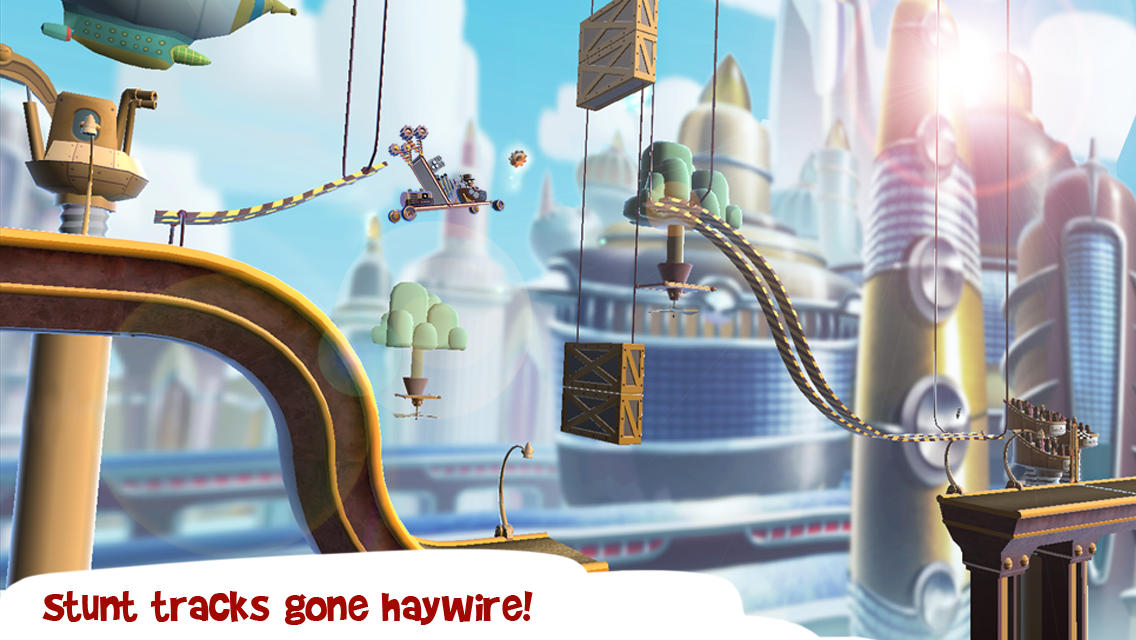 iTunes Description
Think outside the box and create hundreds of wacky vehicles to take on Loco Motors' unique stunt challenges. Dash through the most physics-defying tracks you've ever seen and share your achievements with your friends online!

So, go ahead! Unleash your creative genius and show off your crazy stunts and vehicle designs! Play Loco Motors now and have a blast defying physics… on wheels!
Forum Thread: Loco Motors (By Minority Media)
---
Maya The Bee: The Ant's Quest
iTunes Description
The ant queen has been infected by a strange virus. Time is running out, we have to act as quickly as possible or the anthill will languish. The queen needs your services: bring back all the necessary fruits to prepare her healing potion.

In Maya The Bee: Ants Quest you control different kinds of ants: the soldiers, the workers and the conveyors, each one of them having their own functions. Recruit new ants, beware the wasps and solve the many challenges standing in your way.
Forum Thread: Maya The Bee: The Ant's Quest – (by Bulkypix)
---
Nerdy Workout
iTunes Description
Earn as many reps as you can before your arms get eaten by monsters.

FEATURES:
– Challenging gameplay gradually ratchets up the difficulty
– Over 30 ranks from "limp noodle" to "beefy" & beyond
– Earn trophies to commemorate your longest run
– Share your high scores worldwide on the Game Center Leaderboard
– No limit to the number of reps you can earn (or is there?)
Forum Thread: Nerdy Workout (by Joseph Rothenberg)
---
Pigs With Problems
iTunes Description
It all started with the classic story about the three little piggies, but things get messed up when the third house gets blown away…

Use a variety of action packed finger-twisting gestures to HIT, PUNCH and THROW the big bad Wolf's evil helpers out of the way and help piggies escape.
Forum Thread: Pigs With Problems (by Wham Bam)
---
Pot of Legend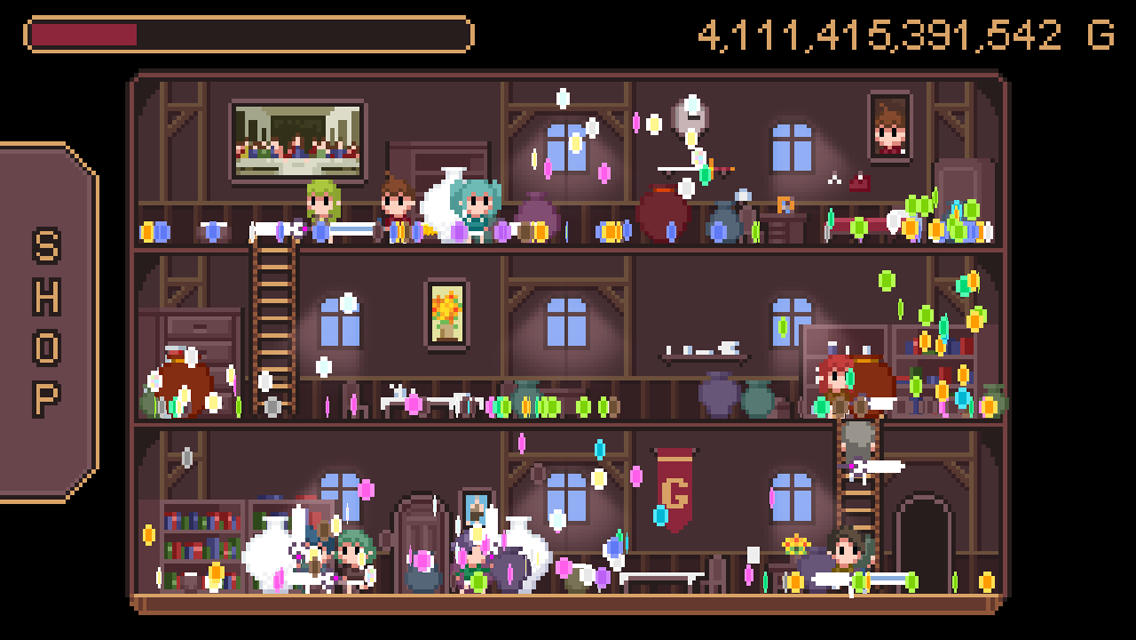 iTunes Description
Earn money by breaking the pot as an RPG game.

Players looks for pots and break it automatically.
The gauge is charged faster by tapping the screen.
Pot appears when the gauge is full.
Let's collect coins from broken pots by tapping them.
Pot of legend appears when you earn Gold 1,000,000,000,000!
Forum Thread: Pot of Legend (by Orca)
---
Pyro Pursuit
iTunes Description
Play as a fearless firefighter, making your way up a burning building. With the help of a firetruck armed with a ladder-firing cannon (obviously), you need to avoid flaming obstacles, jump from building ledge to ledge, and save a few personal items (and elephants) along the way.

Timing is everything with simple one-touch controls to fire the cannon and advance up the building.

Complete missions to earn rewards to help you along the way. Upgrade your firefighter to get to higher levels. Compete with friends on the Game Center leaderboards!
Forum Thread: Pyro Pursuit – (by Smugbit Studios)
---
Quest of Dungeons
iTunes Description
Quest of Dungeons is a turn based dungeon crawler game.

An evil Dark Lord has stolen all the light, so your mission is to enter his lair and defeat him.
By playing as either a Warrior, a Wizard, a Assassin or a Shaman you have to traverse dungeons, defeat enemies and loot everything you can in order to survive.

The entire game is procedural so you won't find items/enemies in the same place each time you play.
Forum Thread: Quest of Dungeons (by David Amador)
---
Ravensburger Puzzle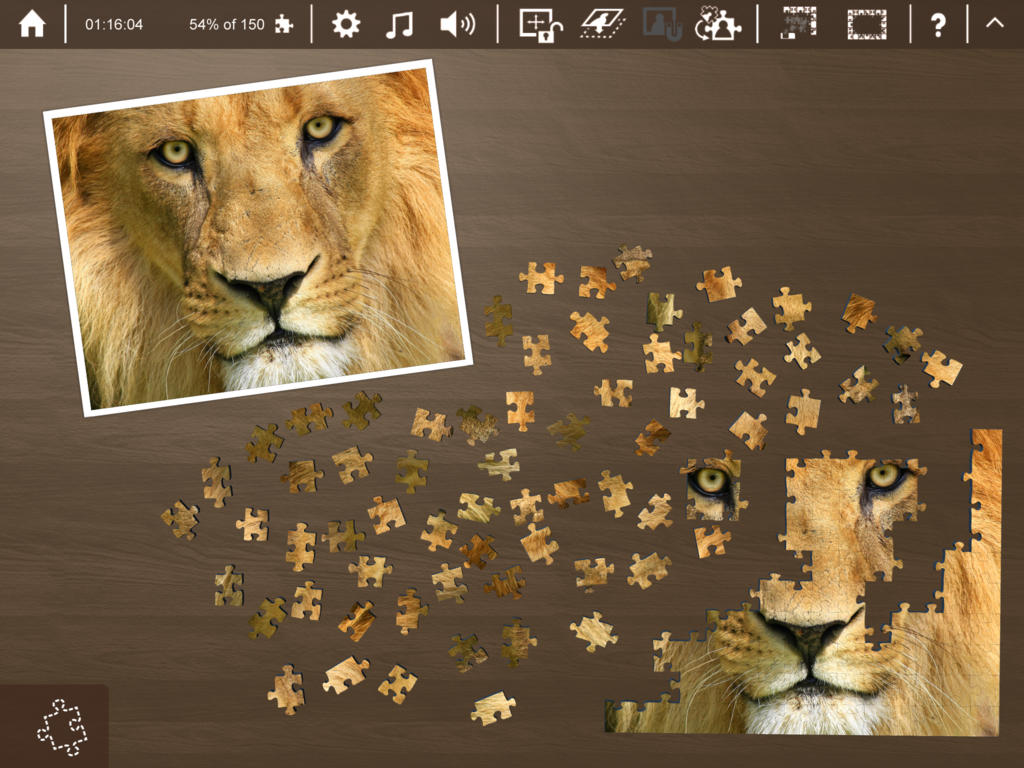 iTunes Description
The best puzzle app for the iPad – of course from Ravensburger. A huge selection of motifs, intuitive controls, original Ravensburger quality, beginner-friendly tutorials.

For over 100 years, Ravensburger has been known as the European market leader for its high-quality puzzles. Starting immediately, we are uniting the traditions and experiences from the classical world of puzzles with the advantages and opportunities of the digital world on the iPad (iPad 2 and up).

Never before has it been so easy to follow your passion for puzzles. Whether at home or while traveling, the mobility of the tablet allows you to always have your personal puzzle collection on hand anywhere, anytime.
Forum Thread: Ravensburger Puzzle – (by Ravensburger)
---
Red Bull Racers
iTunes Description
Get ready for wild races, reckless overtakings and tons of action in the next generation of Slot Racing!
Forum Thread: Red Bull Racers (by Red Bull)
---
Sometimes You Die
iTunes Description
In a game, you die.
And imply that it has no effect on you.
You feel invincible in the realm behind the screen.

This one is different.
In this game, you have to die.
Forum Thread: Sometimes You Die (by Phillip Stollenmeyer)
---
Tiny Space Adventure
iTunes Description
Live a great adventure with this point-and-click game that combines simplicity and logic …
Can you manage to pass each level without being trapped? Try and you'll know 🙂

You'll face puzzles of increasing difficulty, but also many surprises in each level … it's up to you to discover them…

Ready to live an intergalactic adventure?
Let's go!!!
Forum Thread: Tiny Space Adventure – (by Alexandre Minard)
---
zRacer
iTunes Description
Race at insane speeds through randomized techno pumping levels

Pick up speed and health boosts along the way and go faster than your friends!

>>>>>>>>GOTTA GO FAST>>>>>>>>
Forum Thread: zRacer (by Robert Johnson)
---
0-Snake
iTunes Description
Ultimate arcade challenge with innovative controls and minimalist design – that's what 0-SNAKE is about.

Most important rule: one touch is enough for 0-SNAKE.

Improve yourself and beat the world record.
Forum Thread: 0-SNAKE [Extreme] (by Evil Indie Games)