Combining some super addictive and challenging physics puzzling with four classes of the cutest zombies, Artifex Mundi's Deadlings ($1.99) is a joy to play. In a similar fashion to Lemmings, you, as the player, must navigate each of the zombie babies around and across the most death-defying traps in an attempt to "train" your minions.
The gameplay is divided into two modes of play, with strategic planning and successful timing taking the forefront. Generous enough to give you the time to plan your course of action before you start each level, your goal is to make your way around the deadly maze, avoiding all the hazards it throws in your path. Lethal spinning saw wheels, murderous spikes, and alien spiders are just a few of the obstacles set in place to hold back the zombies from reaching safety. You'll start initially with one class of zombie, learning the ropes as you go along. Don't let your guard down though, as the difficulty spikes fairly quickly.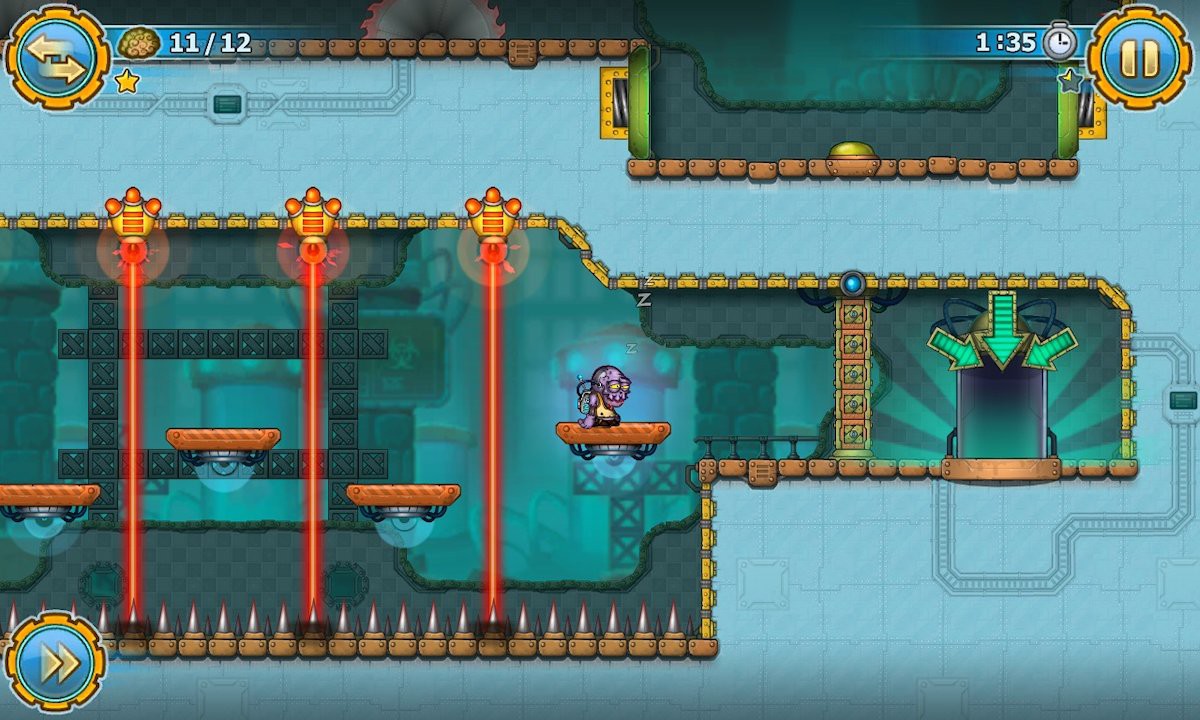 The first few levels or so are tailored to getting you to grips with the game and teaching you the various features throughout the levels. There's a three star system based on how well you do, which calculates the time you took versus – and this is the most important factor in your final score – the amount of brains you pick up along the way. As you advance, you'll also accumulate skulls, which essentially are used as a currency of sorts to regenerate zombies, eliminate traps or skip levels. We'll get to more on that later though.
As noted previously, the modes of play involve strategic planning in which you can zoom in and out, alter parts of the maze, and more, before tapping right into the arcade style action in which you'll implement your skills and carry through your ideas as best you can, with some clever in-game improvisation along the way. A great breath of fresh air though is the ability to switch modes, zoom out and see where you are headed or what you might be doing wrong.
Each class of zombie is blessed with a different skill necessary to clear the level, whether it be flying, crawling, bouncing, running, or jumping, and each also has a number of special achievements you can obtain as you advance, which is an added bonus if you're into that sort of thing. As the levels get more tricky, you'll probably find yourself switching from one class of zombie to another as different traps rear their ugly heads, but a little extra planning and you'll be laughing.
That said, if you're not careful, and this is where Deadlings really can catch you out, there's a possibility of running out of skulls and hitting a wall where you can't progress without spending some more real cash. Yes, it's rather cheeky of Artifex Mundi, considering the initial price of the game, but you can expect to at least hash out an hour or two of gameplay before you hit that wall. IAP are priced at various tiers, with skulls costing from $0.99 for a pack of 25, and a fresh pack of deadlings setting you back the same. You can also spend money on power-ups, or just go all out and buy a bundle with a combination of the lot from as little as $3.99.
For the casual gamer, this can be a bit of a stretch, considering the fact that when you buy a game initially, you don't want to have to splash out more if you don't have to. Fortunately, you'll probably get in a good couple of hours and clear a large number of levels before you hit this point, but it's inevitable in most cases to say the least.
That all said, Deadlings is challenging, entertaining, and oodles of fun. Accompanied by a great soundtrack and some fine looking graphics, you'll really be missing out on this humor-filled action-packed delight if you don't pick it up.