It's Wednesday, and there is a veritable flood of new iOS gams to choose from tonight. There appear to be lots of sleeper hits in the mix this week, like One Spear Savage and Word Mage, along with more well-known games like a new Autumn Dynasty, Avadon 2, and, one I've personally been very excited for, Out There. Oh, and don't forget about the dancing animal sim Disco Zoo. It's simply an awesome week of releases, and many of these games Eli streamed earlier on our Twitch channel, so be sure to give that a look too.
Autumn Dynasty Warlords
iTunes Description
Revered, feared and enigmatic. The First Autumn Emperor's legacy is undisputed. He began as a minor warlord, yet he would one day unify the country, discover firedust, and repel the greatest barbarian invasion in history. His personage is a mystery, but his exploits are legendary. Could you have ruled in his place instead?

Manage your empire turn by turn: manage cities, construct buildings, raise armies and engage in diplomacy and espionage. Unify the land by conquering all provinces!

Fight your battles in real time: use simple gestures to direct your armies and turn the tide of battle with special abilities. Outsmart and outmaneuver your foes through superior tactics!
Forum Thread: Autumn Dynasty Warlords (by Touch Dimensions)
---
Avadon 2: The Corruption
iTunes Description
Avadon 2: The Corruption is a huge, indie fantasy role-playing adventure, the second chapter in the epic Avadon trilogy. You will serve the keep of Avadon, working as a spy and warrior to fight the enemies of your homeland. As a servant of the Black Fortress, your word is law. Experience an exciting fantasy role-playing adventure as you try to save your homeland from civil war and fiery destruction.
Forum Thread: Avadon 2: The Corruption (by Spiderweb Software)
---
Beyond Space
iTunes Description
Beyond Space is a cutting-edge 3D space shooter game that immerses players in the darkest plots in a similar vein to the best Space Operas.

Scores of planetary systems, nebulas and asteroid fields to explore. Fully detailed 3D Graphics, mesmerizing, beautifully painted spacescapes, spectacular special effects, and rendered glows, lights, sun flares and reflections.

All of which intensified with an ambient yet dynamic soundtrack and great sound effects.

You are Max Walker, a spacefaring adventurer and pilot-for-hire, who gets drawn into a galaxy-spanning conflict.
Forum Thread: Beyond Space – (by Bulkypix)
---
Caveboy Escape
iTunes Description
Caveboy Escape offers innovative puzzle gameplay, utilizing subtle match-3 and connecting tile gameplay that feels fresh and will tickle puzzle gamers' brains. It takes a keen eye and quick thinking to navigate Caveboy to the exit – Finding the right path will be a challenge as the size of the labyrinth continues to grow. Time is also of the essence as Caveboy must reach the exit or the maze will collapse.
Forum Thread: Caveboy Escape – (by AppXplore Sdn Bhd)
---
Cubed Snowboarding
iTunes Description
Crash into snowmen, grind on railings, launch off halfpipes and go careening off of cliffs in this fun, fast, little, retroish 3d game!!!
Forum Thread: Cubed Snowboarding by Jared Bailey
---
Cultures Northland
iTunes Description
Create a thriving settlement with farms, bakeries, Potteries, Mason Shops, Schools, Armories and many more. Manage your settlement and its Settlers, erect new buildings, raw materials will roll in, finished goods will roll out so you can grow more people. Watch your people walk, eat, sleep, and talk to each other for entertainment. Couples marry. Babies are born, grow up, and are assigned careers of their own.Each person is a unique character who can be assigned a career. As they go about their careers, their skills improve. As their skills improve, new careers are opened to them. Stay out of the way of your enemies or attack them when you feel there is no other option.
Forum Thread: Cultures Northland (by Runesoft)
---
Demonrock: War of Ages
iTunes Description
Demonrock: War of Ages is a reverse defense game with beautiful 3D graphics and intuitive
game play. Lead your hero's soldiers to victory against hordes of monsters.
Forum Thread: Demonrock: War of Ages – (by Crescent Moon Games)
---
Disco Zoo
iTunes Description
From the creators of Tiny Tower comes Disco Zoo! Tiny Animals. Big Fun.

Travel to regions around the world and collect everything from pigs to dinosaurs for your Disco Zoo. Discover hidden animals through casual puzzle play. Manage and expand your zoo to maximize earnings. Throw funky disco parties to get your animals and visitors groovin'!
Forum Thread: Disco Zoo (By NimbleBit LLC)
---
Divine Girls
iTunes Description
Take a journey to the Heavenly World, with Divine Girls!

Find the hidden truth of the Heavenly World with a sassy but sweet angel by your side!
Summon a team of goddesses to guide you through battles between Evil and Good!
Forum Thread: Divine Girls (By Com2uS USA, Inc.)
---
Duck Destroyer
iTunes Description
When hunger strikes, grab a shotgun and put some dinner on the table. Lock and load and put those sharpshooting skills to the test as you blast flocks of ducks out of the sky.
Forum Thread: Duck Destroyer – (by Chillingo Ltd)
---
Fling Knight
iTunes Description
Fling Knight is an Arcade game where you fling your knight upwards through a randomly generated castle, in a quest for coins and distance. Coins allow you to unlock two extra characters and nine extra blocks, GameCenter allows you to compete against your friends for the best distance. Fling Knight offers 12 GameCenter Achievements worth 1,000 points, challenging enough to keep you flinging for a long time.
Forum Thread: Fling Knight (By Paul Lind)
---
God of Light
iTunes Description
Sit back and become immersed into the world of God of Light, the game that rethinks the physics puzzle genre with its unique environment exploration gameplay, amazing graphics and exclusive soundtrack created by electronic music icon UNKLE.

Join cute game mascot, Shiny, on his way to saving the universe from the impending darkness. Play through a variety of exciting game worlds and dozens of levels with mind-blowing puzzles. Your goal is to explore game levels, seek for game objects that reflect, split, combine, paint, bend and teleport rays of light energy to activate the Sources of Life and bring light back to the universe.
Forum Thread: God of Light (By Playmous)
---
Laboratz
iTunes Description
It's your first day at Labanoir Academy, the university for mad scientists! Confrontation is the main thing down there. But forget about the boxing gloves, we're talking about genetically modified rat fights! Decide your own strategy, capture hundreds of rats and train them to build a genuine war machine! Use items to take advantage on your enemies, capture their cards while choosing yours closely, and get increasingly powerful cards to make your team evolve in the lab! Fight thousands of players from all around the world in the multiplayer mode, and become the master of Labanoir Academy by winning duels against the enemies of the adventure mode.
Forum Thread: Laboratz (by Adictiz)
---
Lego Legends of CHIMA Online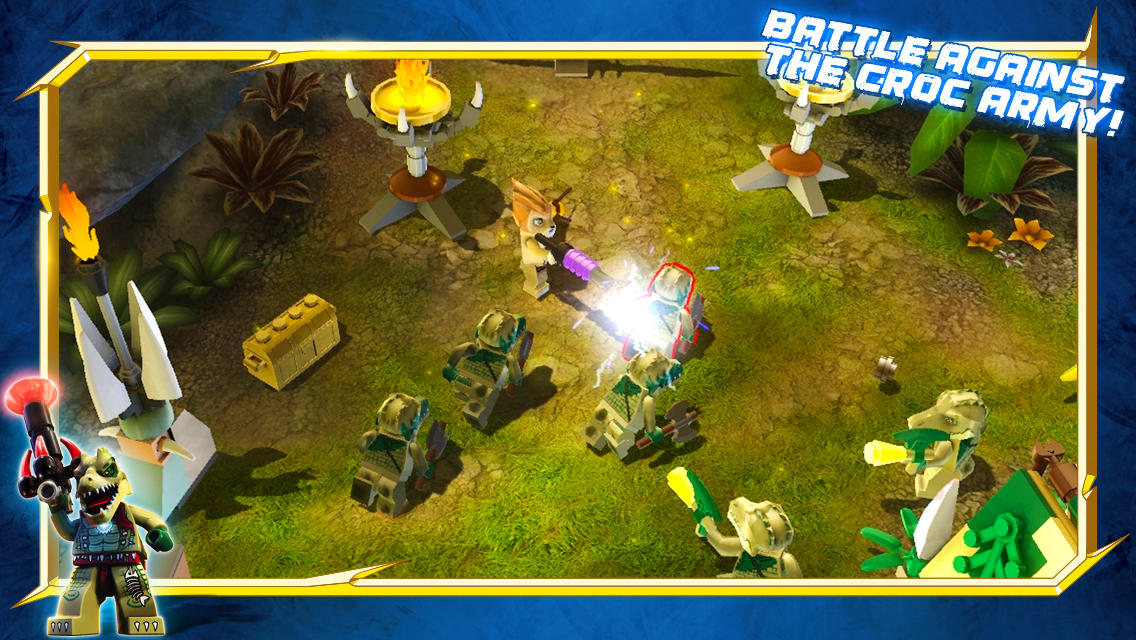 iTunes Description
Explore the vast and dangerous World of CHIMA ruled by animal warriors in the brand new, free-to-play LEGO® Legends of CHIMA™ Online game. Play co-operatively with friends or venture out as the solo hero in an action-packed multiplayer adventure game based on the highly popular toy line and cartoon series from the LEGO® Group! Choose from the Lion, Eagle, Gorilla and Bear tribes and customize your very own warrior. Smash LEGO objects to collect studs, bricks and special items. Build and expand your Outpost to craft powerful weapons, armor, powers and gear to defeat the Croc, Raven, Rhino and Wolf tribes. Solve fun puzzles, complete challenging missions, and unleash the power of CHI in epic battles!
Forum Thread: LEGO® Legends of CHIMA™ Online (By Warner Bros.)
---
Midnight Bite
iTunes Description
Help the little vampire quench his thirst! Little Draku's parents have gone on vacation, and they forgot to stock the pantry! It's time to go to town in search of fresh blood…

Walk around the varied city locations looking for easy victims, while avoiding the patrolling guards that will try to stop you. Stay unnoticed, moving from hideout to hideout, and use your vampiric powers to confuse your enemies, but be wary of the dangerous vampire hunters that watch over the city! Only a cunning vampire will be able to accomplish this duty. Show that you are up to the task!
Forum Thread: Midnight Bite (By Milkstone Studios SL)
---
Mine Out
iTunes Description
Dig deep into the ground with this mix of mining, digging, and a mine cart as a paddle. Blast through level after level of this fast paced explosive arcade mining adventure!
Forum Thread: Mine Out (by Dynamic Adventure aka Zenfar)
---
Monkey Boots
iTunes Description
Escape the elephant stampede!

Controls
Right Button – Jump / Stomp
Left Button – Slow Down

Get extra points for stomping the Elephants
Forum Thread: Monkey Boots by Cocky Culture
---
One Spear Savage
iTunes Description
One Spear Savage is an action arena spear-em-up. Fight a bunch of savages on randomly generated maps with JUST ONE SPEAR.

Move your savage around the single-screen area by tapping where you want to go. Tap and hold to throw your spear to kill savages or complete objectives. Each savage only gets one spear, and they have to go pick up their own spear once they've thrown it.
Forum Thread: One Spear Savage (By 36peas)
---
Out There
iTunes Description
You are an astronaut awaking from cryonics not in the solar system, but… out there… in a far and unknown place of the galaxy. In Out There, you will have to survive, tinkering your ship with what you can gather drifting in the void, and spot garden planets to refill your oxygen supply.

Space is an hostile place ; dangerous and mysterious adventures will mark each step of your travel. You will not only meet intelligent species that won't care about you, but also deal with ancient powers linked to your destiny and the fate of mankind itself.

Survival and understanding of what is really at stake in the galaxy is the core of what Out There has to offer.
Forum Thread: Out There (By Mi-Clos)
---
Primal Flame
iTunes Description
It's dark and you're alone amidst the sounds of the forest. Strike up a flame to light your way in this alluring and dangerous world.

Encounter malevolent flowers, falling leaves and dark rain as the forest seeks imaginative ways to extinguish your flame. Rescue luminous seeds to refuel your light and help you fight the growing darkness.

Swipe, dodge and burn to stay alive as you move through the obstacles in a dance of fire.
Forum Thread: Primal Flame – Fire wielding atmospheric arcade game
---
Principia
iTunes Description
Welcome to the world of Principia.
Solve puzzles using the laws of physics. Help the robot get to the goal by building contraptions, bridges and vehicles.

Open up the sandbox editor and use over 190 unique objects to create anything from a simple teeter totter to a working calculator. Use the advanced electronics system to create your own games. Upload your creations to the community website or download creations by others.
Join thousands of other players and compete in the weekly Building Contests!

Play freely in the Adventure mode, explore worlds and progress by gathering resources and constructing objects that can be used to build anything you can imagine.
Forum Thread: Principia (by Bithack)
---
Royal Revolt 2
iTunes Description
Royal Revolt is back with more fun, even more battles and a lot more action.
Defend your castle and build a deadly maze for your enemies. Explore and conquer the kingdoms of your friends and foes in this brilliant sequel. Overthrow the royals on your way to the top, but be aware of your own enemies, your Highness – there's a royal revolt going on!!!
Forum Thread: Royal Revolt 2 (by flaregames)
---
Running Quest
iTunes Description
Running Quest is an Endless Runner / Action-RPG hybrid, inspired by games such as Temple Run 2 and World of Warcraft.

Guarded inside a castle, deep within the heart of Agarom, lay the Stone of Shattered Planes. The stone is a key that can be used to open a portal to the planes of darkness. The power of the stone fueled a raging desire within Nimus, a master thief and clockwork engineer. Nimus envisioned harnessing the power of darkness to reign as King over all of Agarom. Thus he has stolen the stone and fled to an ancient land of clocks and gnomes. You must chase him down and battle your way through hordes of enemies in a rich and vibrant fantasy world filled with adventure!
Forum Thread: Running Quest – (by Selosoft, Inc.)
---
Save Looma
iTunes Description
Looma needs your help! After the destruction of Loomeria, Looma is left all alone, hurtling through space!

In this tile-based puzzle game, divert Looma's course with the gravity of Asteroids, blow him with Gas Giants, traverse Wormholes and much more as you guide Looma to safety, but watch out for the Cytrons!

Each Galaxy introduces new mechanics, challenges and dangers… Can you Save Looma?
Forum Thread: Save Looma (by 2d6)
---
Snip and Chu
iTunes Description
Snip & Chu is a challenging, retro platformer based on an original comic book IP and the second game released under the LCDemakes brand.

Playing as Chu, a piece of gum, your task is to rescue his friend Snip, a discarded toenail, from the dreaded RecyKiller, a deranged robotic cleaning machine out to destroy all rubbish.
Forum Thread: Snip and Chu – The Game (by Clicker)
---
Trolls vs. Vikings
iTunes Description
Get ready for a mega fun and action packed strategy adventure! Embark on an amazing journey across a fun and mythical world, where peaceful Trolls and magical creatures face Vikings and their Gods! Can you win this epic battle?
Forum Thread: Trolls vs Vikings – (by Megapop)
---
The Voyage
iTunes Description
From the makers of The Curse comes an all-new adventure!

The Voyage is a swashbuckling pirate experience featuring 100 fiendish puzzles and a race to defeat a mischievous new adversary: Captain Bodnar Bucklebeard.

Will you unravel the mysteries of The Voyage's cryptic puzzle book? Will you beat Bucklebeard in a race to decipher the secret treasure map? Will you discover the whereabouts of Velvet Marley's hidden riches?
Forum Thread: The Voyage – (by Toy Studio LLC)
---
Word Mage
iTunes Description
Word Mage is a fast-paced monster fighting RPG, where you destroy enemies by playing a word game. Fight for more than just a high score as you conquer a world, gain powers, and spell your heart out!
Forum Thread: Word Mage – Destroy enemies by playing a fast-paced word game