Although I have an intense dislike for infirmaries, A&E and doctor's surgeries, I have for some reason always enjoyed playing games which involve themes surrounding hospitals. When I was a young lass, Theme Hospital was one of my all-time favorite games, just because it made the concept of being ill far less scary. (Yes, Bloatyhead will always be ingrained in my memory). A more serious approach to the daily struggles of a doctor's life, Doctor Life ($2.99) is slightly educational in some ways but in a strictly playful and lighthearted manner. I think I learnt more about illnesses and general prognosis here than any time spent in the doctor's office or simply browsing the web.
So you're a doctor tasked with running your own surgery-come-hospital; how you go about it and how well you do is up to you. Like any surgery, patients come first and foremost, and it's up to you as the player to assess their various ailments and treat them accordingly. However, all this is done on a time-limited basis, which only gives you around maybe fifteen or so seconds in order to diagnose the patient appropriately. Herein lies the fun, and part of the satisfaction is being able to correctly assess the patient and score points for doing so.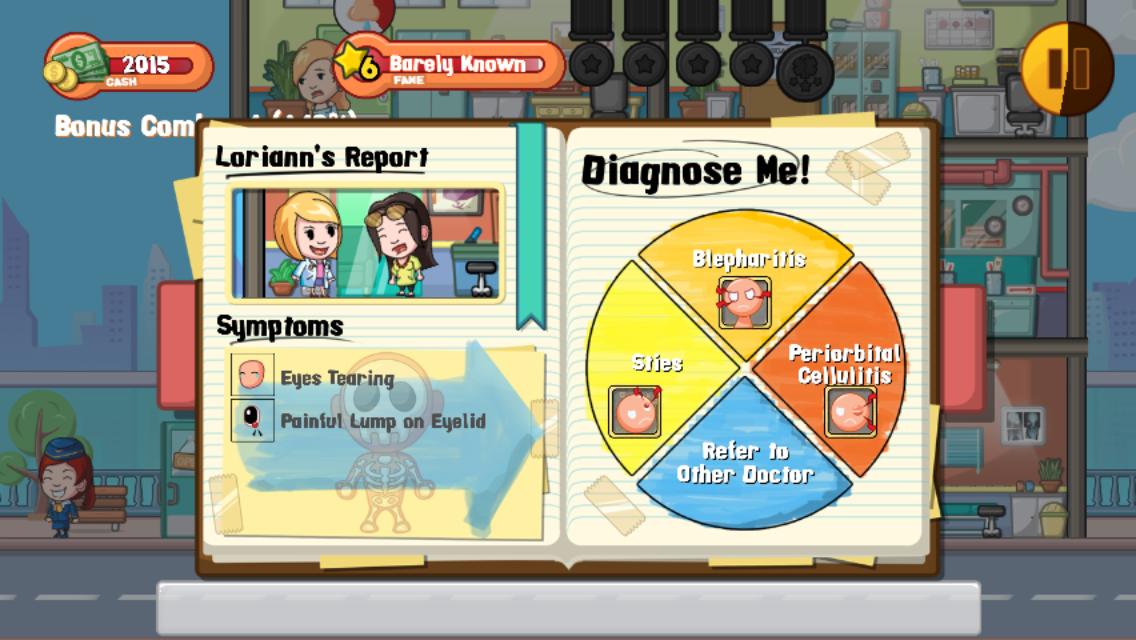 Doctor Life is nice in that it eases you into gameplay with a simple tutorial, generally pointing out and explaining the various activities and tasks that one must partake in to make money. The overall objective is to do as the best you possibly can in order to earn a five star ranking and become a reputable and outstanding hospital.
Tapping on a sick patient brings up a selection of four options from which you must pick one. Each diagnosis usually has similar symptoms to the ones displayed, but there will usually be one outstanding difference that gives away the identity of said illness. By guessing the illness, you then have to decide the appropriate medication or treatment to assign, which can be anything from ice packs to NSAIDs, and getting both the diagnosis and treatment correct will obviously result in some bonus points. However, getting one wrong will result in an unhappy patient, with negative consequence. If you truly don't know, there is the final option to refer the patient elsewhere, but this will not win you any points, nor earn you any money.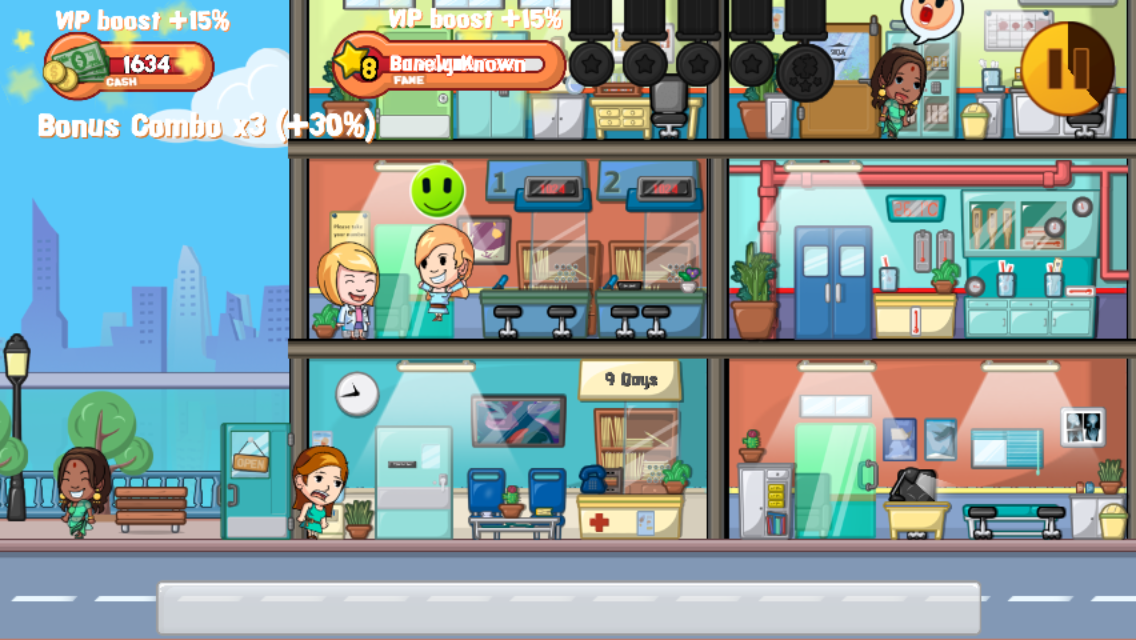 The trickiest thing about Doctor Life is managing to juggle more than a certain number of patients in quick succession, especially since the screen on the iPhone 5S device is too small to see the fonts properly. This isn't really fault of the game; I don't have the clearest of eyesights anyway so its possible those visually impaired may struggle. My advice is to possibly attempt to play it on the iPad, as it may well involve better results.
A series of challenges also manage to make gameplay far more exciting and keep things fresh; these can include anything from building a specific room, investing in a certain amount of treatment, or simply treating enough patients in succession in one "working" day. Although the latter challenge indeed sounds like a doddle, this is not the case. For me, scoring more than ten in a cycle proved difficult. Clearning various challenges and earning money also unlocks various medications, treatments, and as you advance throughout the game, new illnesses. Levelling up in turn scores you a better reputation and can result in further patients visiting your surgery, as well as the benefit of VIPS coming by the surgery for their diagnosis, which in turn leads to bonus points, an increase in money and a higher score.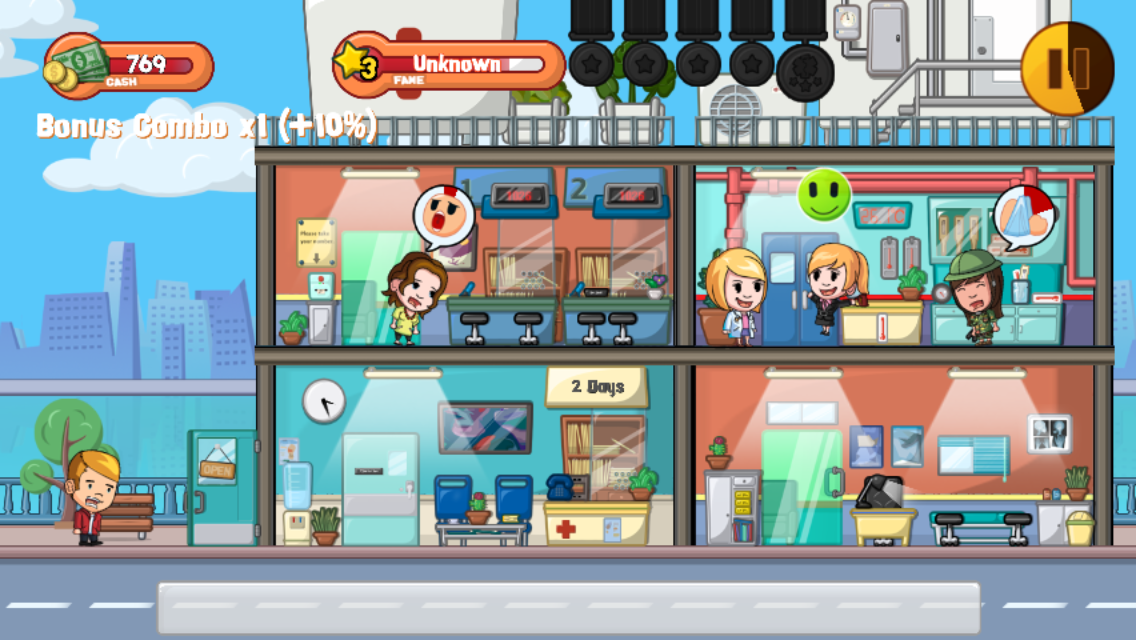 The best aspect for me in Theme Hospital was definitely building the rooms and increasing the size and credibility of the hospital, and Doctor Life is no different here. Though you don't personally get to construct the rooms of your own accord, there are plenty of rooms to unlock as you advance through the game, which can include anything from a Stethoscopy room to a Cafe. Since a lot of these don't unlock until a specific level, there's plenty of reason behind returning to the game or replaying it, and enough to both engage the player and keep them happy. All in all, it's a substantially large hospital to start with, and it can surely only get more manic as the levels increase.
For anyone looking for an accessible, heartwarming, laid-back casual game with no strings attached, Doctor Life is the perfect companion to waste hours of your life before you turn around.