Hot on the tail of the SteelSeries Stratus is another Bluetooth iOS 7 controller out of CES. It's by a new brand called "Signal" which I am having zero luck finding anything about because companies named after plain nouns are nearly impossible to Google. Regardless, the press release insists that the Signal team includes "leading hardware and software developers with extensive MFi partnership experience, backed by management with a history of success in consumer electronics."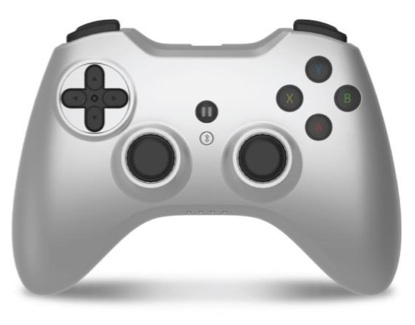 It's called the "RP One," and it aims to be the first "full-scale" and "pro style" iOS 7 controller. As you can see by the photo, it's got the standard load out of buttons, triggers, and best of all, a shape that's closer to an Xbox controller than the previous designs we've seen iOS controller manufacturers use. Just like the SteelSeries stratus, it has a built in rechargeable battery that's capable of going ten hours and it can be charged and used at the same time, something the Stratus can't do.
Unfortunately, Signal is going with the same crazy $99.99 price point for the RP One that all iOS controllers are stuck with (Further proving my theory that it's not controllers manufacturers setting these prices!) and if all goes as planned it'll be available during the first half of 2014. The RP One seems like the first controller we've seen that doesn't make any compromises with size or form factor, so it could be the one to wait for.
However, with the only physical manifestation of this controller being a "concept" version on the show floor of CES, if you're looking to get a iOS controller this month, we still recommend preordering the SteelSeries Stratus.