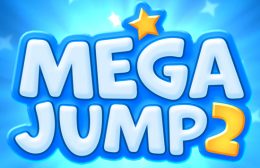 When it comes to vertical jumpers on the App Store, Papi Jump (Free) is the grandaddy of them all, while Doodle Jump ($0.99) is the one that broke through to the masses. But Get Set Games' Mega Jump (Free) is the one that ushered the genre into the free-to-play market. Well, eventually, that is. Mega Jump started out life as a 99¢ title, but like many before it, changed course a few months later to a fully free-to-play model. It was incredibly successful too, garnering tens of millions of downloads across iOS and Android since first arriving back in 2010. Well, not surprisingly, Get Set Games is following up that title's success with a sequel.
While Mega Jump 2 looks quite similar to the first, there are several significant changes which should please fans of the series. First off, it's truly an endless game now, whereas Mega Jump was level-based. There's a brand new Adventure mode which is basically a series of meta-goals to shoot for while you play, a la Jetpack Joyride and the like. There is a bigger emphasis on collection this time around, with secret eggs to find that will unlock hidden characters and new Tokens which can be collected in order to trigger a new Mega Fever Mode.
Perhaps the biggest change, and the one most-requested by Mega Jump players, is that the different playable characters now have their own unique attributes. Additionally, Mega Jump 2 features hundreds of new level layouts, which the team meticulously puts together by hand to ensure they are enjoyable, as well as plenty of new enemies and items. All in all it sounds like the Mega Jump you know and love, just bigger, better and endless with lots of user-requested features. Be on the lookout for Mega Jump 2 to hit next week.