The first BAFTA winning Cut the Rope (Free) did something that is almost unheard of outside of mobile gaming circles. It created a game that looked, sounded and even played like something designed for young children that could be just as appealing and perplexing for adults.
ZeptoLab's second take on the cartoonish looking game Cut the Rope 2 ($1.99) offers the same experience but with some creative twists that add new characters to the series and some equally creative ways to play one of the most popular puzzle games on the iOS platform.
Thankfully, the game doesn't stray too far from the concept that made it a mobile gaming monster. The loveable Om Nom, the candy loving creature that was destined to become a best-selling, huggable plush toy, has an addiction for candy that cannot be satisfied and it's up to the player to help him reach his glucose laden treasure. This time, there is a slightly bigger emphasis on story as the pesky spiders conspire to steal his precious candy. This is to introduce some of the new characters that will help Om Nom retrieve his precious candy and set up new settings for Om Nom to play in as he travels around the world with his beloved candy dangling just out of his reach.
Like most level-based puzzle games and its predecessor, Cut the Rope 2 starts off slow to give the player a chance to learn its most basic functions and controls as ropes are sliced in perfect time to toss the candy into Om Nom's infectious grin. Things like air cushions and balloons help keep the candy from falling off of a cliff and turning Om Non's adorable grin into an "awww" producing frown but a bunch new characters add a ton of creative new elements to an already creative game.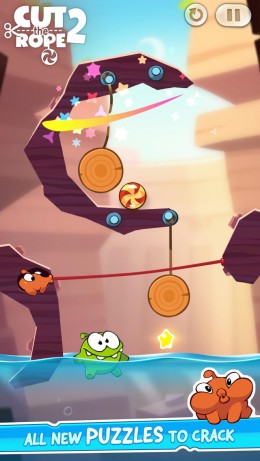 What appears to be hedgehogs crossed with aardvarks can spit out their tongues across a chasm creating a bridge to stop or roll the candy towards its final destination. Baby elephant looking creatures turn their long noses into springs to bounce Om Nom or the candy closer together and in the path of stars that can add to the game's longevity. These whimsical characters add a fun new dimension to what could have been an otherwise dull experience if the developers had just created new levels under the game's already brilliant design. They expand on a simple concept and give the puzzle creators more possibilities and challenges to throw in front of their players, which gives the players ample opportunities to replay it as they try to capture those elusive stars.
Just like its predecessor, Cut the Rope 2 may sound easy but it gets increasingly harder as you plow through it, which will just make you want to play it more. It builds on the formula that made it such a successful puzzle franchise without completely reinventing or ignoring the core gameplay that makes it work. What's even more amazing about such a game is that it has a simple design that anyone can pick up and stick with even as new and exciting elements are added to it with each passing level.
To call it "gaming candy" would be a useless cliche and a gross mischaracterization for such a game. Such a tired term would imply it has little to no nutritional value for your brain. The artwork and characters may look sugary sweet but it's plotting and physics elements that require you to think ahead before you cut the line makes it something that your mind won't regret gorging on after a long  session and binging and purging.