Football Heroes (Free) by Run Games is a sports lover's wet dream come true. Combining crazy gameplay elements from past satirical sports franchises (Mutant League Football, Blitz, and Tecmo Bowl) with simplistic and strategic play-calling, Football Heroes is without question the best American sports portrayal on the app store. FB leaves out all seriousness and infuses an abundance of fun that overflows through its presentation, wit, and perfect controls. It has very minor technical glitches that I can completely overlook as it has easily become my most used app. For its advancement of a genre, controls, and presentation, it is an absolute no-brainer to download, play, and keep.
FB's presentation is light-hearted and echoes an extensive amount of fan appreciation. The app references the humble Kickstarter beginnings as field decals and player names (campaign backers) are given a loud Easter egg salute. Upon starting Football Heroes, an immediate tutorial is provided to indoctrinate the uninitiated to general football nomenclature, controls, and play calling. This creates a low entry level so non-sports enthusiast will find the same amount of pleasure chucking the pigskin all over the field. Even more spectacular than its knack to teach game mechanics, is the option to fully customize my team and each individual player. Uniform colors and logos can be manipulated as well as player names and appearances. If I want to create a team of fluorescent ghouls or cuddly critters, I have the tools and the choices are endless. Unfortunately, there is no stadium editor or major field effects (more on that in the review) as that would have made a colossal visual triumph. Still, I was thoroughly impressed by the final product.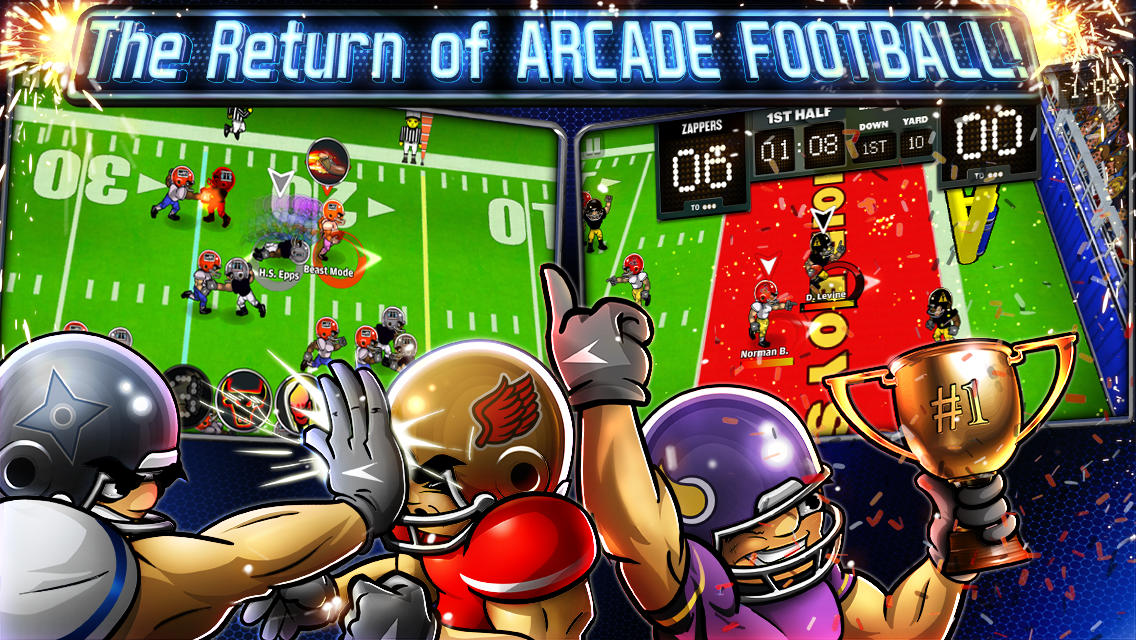 The meat of Football Heroes is gameplay. From the opening kickoff, I immediately feel like I am playing back-alley, in-your-face, smash-mouth football. The "smash-mouth" is 100 percent due to the ability to either tackle ball carriers with standard dives (swipe) or utilizing fisticuffs (tapping) that can cause turnovers and great carnage. Playing offense is definitely the highlight of any particular match; selecting run or pass plays is not just a mundane choice as defenses' weaknesses can be exploited with proper play calls. Running the ball is self-explanatory whereas passing is quick and fluid. Tapping on a desired receiver tosses a spiraling pass making the carnage of bodies and cartoonish violence oh so fun. Defenses also have a level of complexity that maintains a general balance throughout each match as selecting the best play may initiate a "defensive counter" to swing the advantage back to my squad. If I had one suggestion about playing Football Heroes, it is to play it on the largest screen possible as some maneuvers, like spin moves, may not respond as quickly on smaller areas of surface (iPhones). Still it controls as great as one could expect on a mobile device. One last gameplay plus is local multiplayer which I will leave to the imagination about how awesome it is.
The rules of the sport are generally the same as reality; however, they can be manipulated to take advantage of the competition. Football Heroes accomplishes this feat by instituting one or many special abilities to certain players. And with such variation in powered attacks and counters, the app becomes a meta-practice in knowing my arsenal as well as when to deploy it. All abilities have the potential to change the course of any given game. However, they are not guaranteed to work and are limited by a play/cooldown timer which if used too early, could be devastating in crucial moments. I never felt like I was totally playing offense or defense; Football Heroes completely encourages scoring and making plays no matter if I possessed the ball or not and it is an amazing accomplishment that I have yet to have on any mobile or console platform.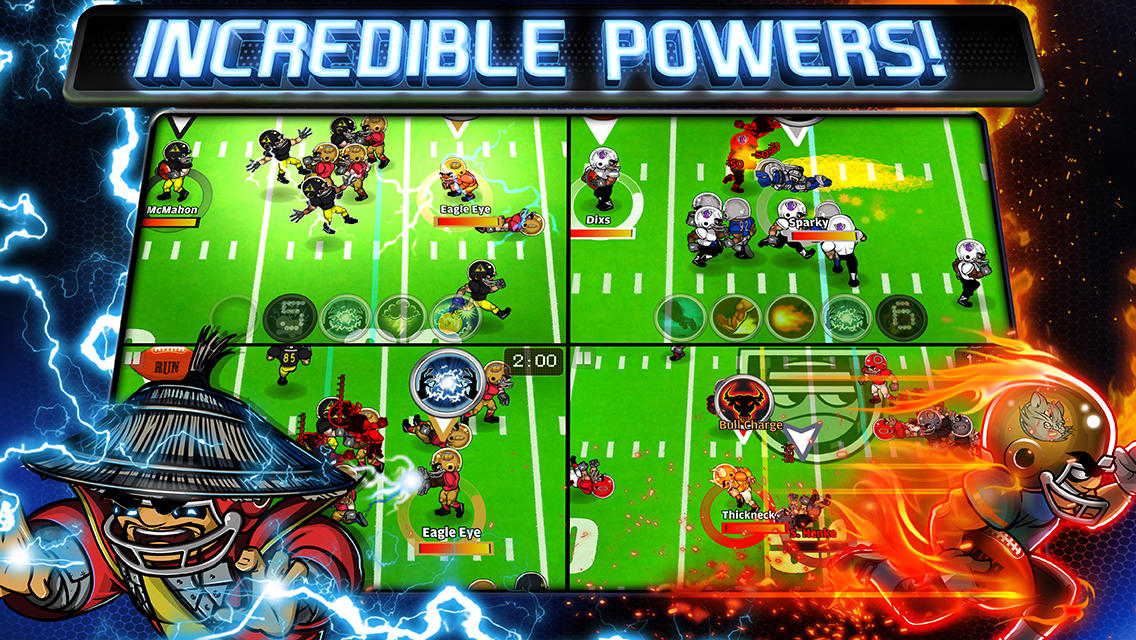 From app presentation, to CCG elements for players, and plush gameplay that will last for hours, Football Heroes is more than a "beat 'em up"; it is a major leap forward in the mobile sports genre and a testament to what can be achieved with great development and patience.