On the floor of BlizzCon, the only mobile version of Hearthstone available to the public was a PC version running on an Intel tablet with a touch overlay. However, the press room featured six iPads the actual iPad version of Hearthstone running on them. I had the opportunity to check one out and I couldn't be more enthusiastic for its upcoming release.
Simply put, if you've played the PC/Mac version of Hearthstone, you've played the iPad version. The battle board looks exactly the same as the PC version, with full retina support making Blizzard's artwork look absolutely stunning. I'm not sure which iPad was running it (if I had to guess, I'd say the iPad 4), but gameplay was smooth, touch controls were on point, and the animations for all the cards ran without a hitch. Since I first fired up Hearthstone on my PC I thought that the game would be a perfect fit for the iPad and that's now certainly the case.
Regarding the touch mechanics, the PC version of Hearthstone features a lot of big buttons and mouse controls that involve a lot of clicking and dragging. These translate incredibly well to a touch-based device that is played right in front of you. Playing cards are as easy as tapping and dragging it onto the field of play, and similarly, targeting other cards and your opponent are quite intuitive. Like most other computer card games, the gameplay mechanics in Hearthstone are pretty simple and the turn-based gameplay also lends itself well to touch gaming. While asynchronous battles is not in the cards currently, Blizzard has stated that it is looking into the possibility of including it in future versions.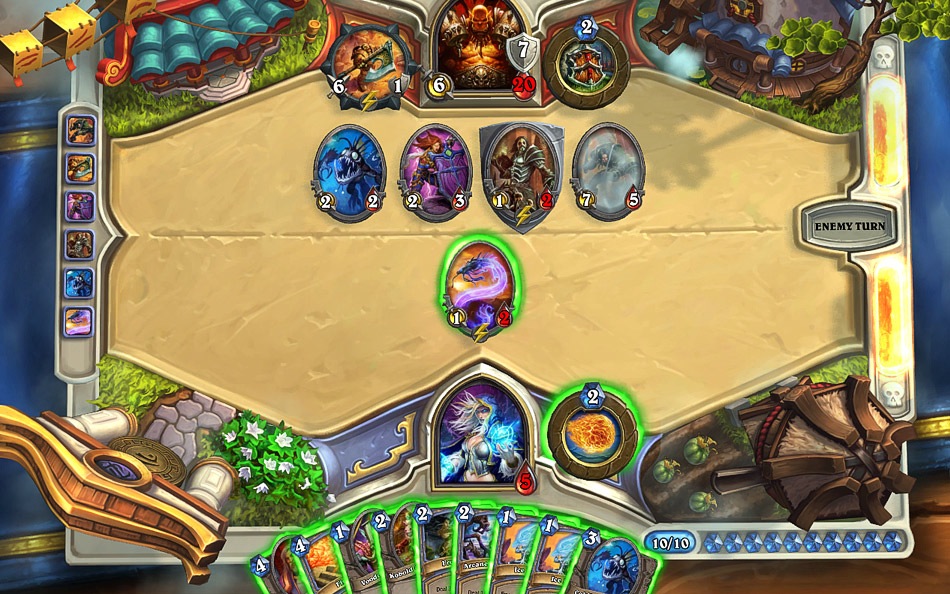 While I currently like playing the PC beta of Hearthstone, I really enjoyed the face-to-face battles I participated in today and I think that has to do with the fact that you're actually in the same space as your opponent. Battles on the floor were played on one-on-one tables with you looking right at your opponent. There were congratulations, tip sharing, and even a little trash talking, and all of it lead to a much more engaging experience. This may sound like a minor point to emphasize, but I really think the tablet and mobile versions have the potential to greatly expand the audience for the game.
On his Twitter account a few days ago Eli made a good point that Hearthstone, along with other computer card battling games, lose a certain something when you're simply playing online staring at a computer screen instead of seeing your opponent across the table from you. With the tablet and mobile version of Hearthstone, I think a lot of this 'personal' experience can be brought back into the fold for players that enjoy battling face-to-face while still retaining the flexibility for global play. That, combined with Blizzard's penchant for approachable yet deep gameplay makes me intrigued with the possibilities.
One interesting note that did come out during BlizzCon regarding the iOS version concerns IAP. While PC users will be purchasing cards directly through battle.net with the associated payment options connected with their account, purchasing cards on the iPad version will utilize Apple's IAP backend. This most likely has to do with current App Store requirements regarding IAP, but it's still interesting nonetheless.
Hearthstone: Heroes of Warcraft is slated to be fully released this year, with a version for iPad "coming later" and iPhone and Android versions due in the second half of next year.