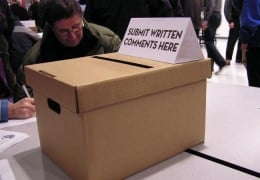 Ok sports fans, we asked you a couple of weeks ago what Apple would need to announce at their October 22nd media event to get you excited to buy a new iPad, so it seems logical to ask what you guys think about what was actually announced. We covered most of the major announcements here, but as expected the big ticket items were two new versions of iPad.
The most interesting announcement to me was the iPad Air. The physical refinements weren't really surprising, it's thinner and lighter and mimics the form factor of the iPad mini with thinner side bezels and a similar back casing. The various leaks leading up to the official announcement basically spoiled all of those changes anyway, but still, they're welcome changes and the new full-sized iPad looks like a great device.
The more surprising part about the iPad Air is the name itself. Things got a little weird over the years when the original iPad was replaced with what was named the iPad 2. The following year, the third generation iPad was known as the iPad with Retina Display. Last fall's iPad release was once again simply known as iPad. Weird. At least calling it the iPad Air is more elegant than always having to refer to which generation iPad you're speaking of.
However, I've heard a lot of speculation about the "Air" name that leads people to believe there may be a "Pro" version of the iPad in the near future. Like the MacBook line, the Air is the laptop that's cheaper and has less features but has the benefit of being thinner and lighter, whereas the MacBook Pro typically has stronger internal hardware and more features geared towards "heavy" users.
Could a beefier, perhaps bulkier and heavier iPad Pro with more hardcore features be released early next year? I always figured the closeness between announcements of the third and fourth generation iPads last year was just a necessary evil to get the new iPad cycle pushed to the holiday season without having to go a year and a half in between new devices. Maybe, though, Apple wants to hit the holiday crowd with these "light" iPad releases and then unveil a Pro version earlier in the year.
Then there's the iPad mini. The second generation version of Apple's smaller tablet finally comes equipped with a Retina Display. Nothing else about the form factor seems to be changed, but that's fine, as really the only problem most people had with the mini was its screen.
What is very cool about the new iPad mini is that it has the same internal hardware as the iPad Air, rather than last year's iPad mini which basically had the internals of the then year-old iPad 2. Both the new iPads sport 64-bit A7 processors, but we'll have to wait for these devices to actually release and be torn down by those who make it their business to tear down gadgets and tell us what's inside them before we'll know for sure if there's true parity between both models. I'm really hoping they both have the same amount of RAM, and that it's 2GB of RAM to boot, but I might be being too optimistic.
Of course the biggest news of all for us here at TouchArcade regarding Apple's event this week is what wasn't announced. Not a peep about iOS 7 controllers, despite the functionality being announced at WWDC way back in June and iOS 7 officially being available for over a month. Plenty of games have been updated with the iOS 7 controller support, but strangely, we've seen a few instances of any word of that functionality being edited out of App Store descriptions, most likely at the behest of Apple.
Are official Apple controllers just not ready yet, and they're just trying to completely ignore the existence of controller support until they can scramble to get things in order for an official announcement? Or does Apple just not consider it a priority at all, and they'll just casually announce more about these controllers just whenever? I honestly don't know!
Also there was no talk about the Apple TV in any capacity, and we've speculated hard in the past about all the awesome possibilities of the Apple TV being an amazing option for a home console-like gaming device. Especially with official controllers, but… yeah, we still don't even know anything about those yet.
Apple also announced a couple new models of MacBook, detailed a price and release for the sweet-looking new Mac Pro, and unveiled a suite of completely revamped productivity apps as well as announcing that they'd be free. Oh, and the new version of OS X, called Mavericks? That thing is free as well, which is a pretty major thing.
There was definitely a lot of announcements at the Apple event this week, but was any of it anything you expected or are excited for? Are you getting one of the new iPads? When do you think we'll finally hear about controllers or something cool with their "hobby" Apple TV? As always, let us know your thoughts in the comments below.