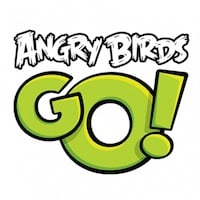 Rovio first teased a game called Angry Birds Go! back in June, and then in late August teased us yet again with a trailer that revealed the game would be some form of kart racer. Well, they've been mum since then, but Kotaku has run across some interesting new images of a forthcoming toy line that ties in with Angry Birds Go!, and might offer some insight into what the game will be like.
Not surprisingly, the Telepod functionality, which was first introduced with Angry Birds Star Wars II and let you scan toys directly into the game using a device's camera, will be at play in Angry Birds Go! What is surprising, though, is that there will also be a line of Jenga-branded toys that tie into the game. Yes, Jenga the block-removing-and-rebuilding-and-eventually-toppling tabletop game. As you can see in the picture of the toy below, you'll build a pirate ship using Jenga blocks and then will actually launch an Angry Bird- or Piggie-driven kart into the structure to knock it down.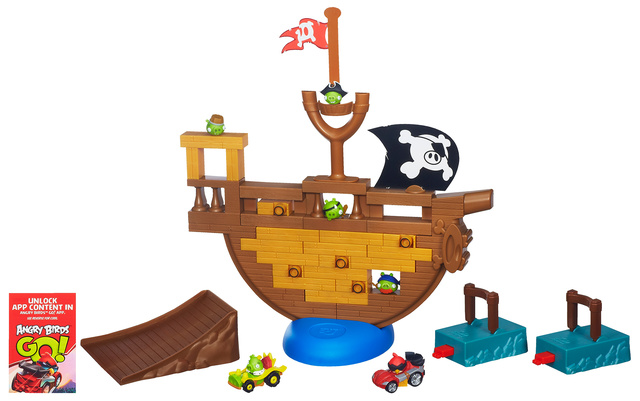 Is this what the video game version of Angry Birds Go! will be like? I'm thinking yes. Rovio already mentioned that Go! would be a kart racer that had some sort of building mechanic, so the idea of the toy's functionality translated into the video game makes perfect sense. What's kind of disappointing is that likely means Angry Birds Go! won't just be a regular kart racing game featuring the extensive cast of Angry Birds characters, which is something that I would have been stoked for. Not that I'm not stoked for… whatever this is, but with the previous teaser trailer revealing a partnership with Red Bull, this new partnership with Jenga branding, and the insane amount of Telepods that will be for sale, I'm just wondering what happened to the good old days of a video game just being a video game, you know? I mean even Plants vs. Zombies has their own freaking lottery tickets. Where does the madness end?
At any rate, we'll have to wait for Rovio to officially unveil what Angry Birds Go! the video game will actually be all about, but I'm definitely curious to find out. Hit up the source link below for a ton more photos of the various toys which will be offered in the Angry Birds Go! toy collection, if you're interested.
[Kotaku]