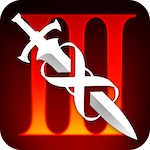 Hype for Infinity Blade III is reaching critical levels as the game gets set to launch later this week, and we've already had our hands all over an early build and are pretty stoked about what we've seen so far. GameTrailers has posted an extended look at the game with commentary from some of the folks at Chair to help explain some of the interesting new features in Infinity Blade III, like multiple playable characters, potion crafting, weapon forging and gem infusing, and re-forging weapons which have had all their available XP drawn out in order to re-level them and unlock new abilities. Check it out.
Infinity Blade III is the completion of the core trilogy, but just because the story ends doesn't mean the game won't live on for a long time to come. Chair also notes that they've built tech into the game which isn't even possible to take advantage of with current hardware, but will be ready to roll in future hardware upgrades. It sounds like it will be another technical achievement for iOS gaming, so strap in for much more Infinity Blade III coverage as we lead up to its launch this Thursday.
Note: The GameTrailers player embedded above can be a bit wonky at times, so if you have issues watching the video try clicking through to the source link below.