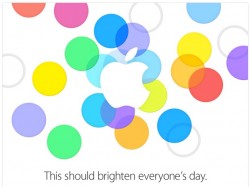 We've been covering the upcoming Apple keynote a ton as new iPhone season quickly approaches, and in one hour from now, we're going to see what the iPhone 5S is about… After the requisite 15 minutes of Tim Cook telling everyone how awesome Apple is doing, of course. We're super stoked for the potential that a faster iPhone brings to iOS gaming, and, as mentioned both multiple times on the site and on the podcast, we really hope to hear some more about iOS 7 game controllers.
We won't be providing live coverage, but here's some great outlets that are:
There doesn't appear to be a live video feed this time around, but, Apple is a surprising company so don't count it out yet. Either way, we'll be posting news stories of cool things that pertain to gaming, but if you want to party down in the comments of this story as the keynote transpires, go nuts!