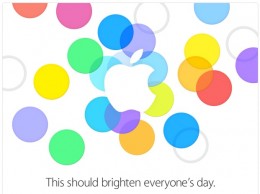 We're less than a day away from Apple's keynote, where we're essentially guaranteed new iPhones. Everyone who follows the rumor mill already knows that we're likely looking at two models: A speed-boosted iPhone 5 dubbed the iPhone 5S and a plastic-backed iPhone 5C which is expected to be a lesser-specced phone to help Apple gain some traction in lower-cost markets.
We've reached out to a few developers regarding what they hope to see under the hood of the new iPhone, and the sentiment seems pretty similar across the board: While the notion of a 64bit mobile processor and potential support for OpenGL ES 3.0 are interesting, the exciting part for iOS game developers is that the release of new devices means that the market is getting that much closer to being able to slide the minimum hardware requirements up another notch.
For instance, the newest iPhones and iPads are actually very well specced under the hood, but when you set out to develop a game or app you want to cast as wide of a net as possible when it comes to device support. It doesn't make a whole lot of sense to specifically focus on games that can only run on the newest hardware when there are still so many iPhone 4's in the wild that you'd be turning your backs on.
So, as iPhone 4 owners slowly retire their phones and either opt for an iPhone 5 or an iPhone 5S, games could get better on your existing iPhone 5 without even needing to buy anything new. We saw this in a big way when the iPhone 3G more or less rotated out, as developers could build games fully leaning on the new OpenGL capabilities of the iPhone 3GS with a nice performance overhead if you were running those same games on the iPhone 4.
Of course, this all potentially goes out the window if Apple skimps on the power of the iPhone 5C. If Apple cuts too many corners to make the iPhone 5C as cheap as possible, it could have the opposite effect as developers are still forced to include support for older hardware instead of moving forward. The guts of the 5C are a huge wildcard right now.
This morning's news of the PlayStation Vita TV throws an interesting wrench into the "What's going to happen to the Apple TV?" question- As now we have a company with arguably just as much brand recognition as Apple, and arguably more when it comes to audio/visual/gaming hardware, building a set top box that at least at first blush totally outclasses the Apple TV in every way that isn't "Buying and viewing iTunes content."
Where I'm thinking things will get interesting is in the world of iOS 7 game controllers. We've posted about them a lot and I've got my money on there being some huge reveal tomorrow. All of the usual suspects that normally would be talking about these sorts of things are being awfully quiet, and arguably, too quiet, for something cool to not be announced tomorrow.
Apple typically shows a game or two during their keynotes, so, maybe we'll see a sick demo of iOS 7 game controls that incorporates the Apple TV? I just hope we get some surprises, as the rumor mill is getting a little too effective, making these keynotes almost vaguely boring as Tim Cook goes through all the things we already knew from the endless leaks that spring up closer and closer to release.
Do you guys think we're going to see anything outside of the obvious?