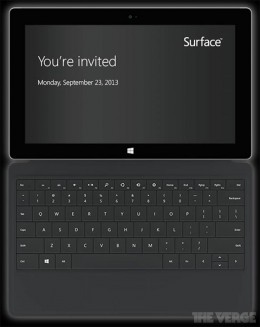 Per The Verge, Microsoft is going to be revealing the Surface 2 on September 23rd in New York City. It sounds like much like the existing Surface RT and Surface pro models, the Surface 2 is going to come in two varieties. Improvements include a new kickstand, the Pro model will sport a Haswell processor instead of a mobile-centric Tegra chip, and they're going to be boasting 8GB of onboard RAM.
The existing Surface product lineup hasn't seemed to pose too much of a threat to the iPad, and while the keyboard case is pretty cool, it hasn't stopped them from losing $900m on the project. Still, additional competition in the mobile space is good for everyone as the hope is that even though you may be fully entrenched in the iOS ecosystem, you can keep your fingers crossed that come of the cooler features/functionality might eventually leak its way over to our side of the fence.
I guess we'll see on the 23rd.
[via The Verge]