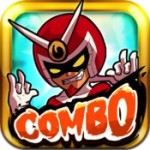 Last month we were surprised to learn that The Gamebakers were in cahoots with Capcom and were planning on bringing one of Capcom's characters over to Combo Crew (Free), and today the update has gone live on iOS that brings this mystery person to the game. Well, it might not be such a mystery anymore as this update has been out on Android for a few days, but just in case you haven't heard yet, the Capcom character in question is none other than Viewtiful Joe. When Gamebakers posted their initial teaser image showing a silhouette of the character, many people guessed it was Viewtiful Joe, and it turns out they were right on the money.
That's not all, though, as a second new character has joined the Combo Crew fray as part of this update. It's Lester Knight from Erich Chahi's adventure game masterpiece Out of This World, or you may know it as Another World depending on where you're from. I have to say, I was pretty much expecting Viewtiful Joe and I think he's a great fit with the cast of Combo Crew, but I was totally taken by surprise with the inclusion of Lester Knight, who strangely enough I also think fits in really well.
If you are looking to spice up your Combo Crew crew then grab the latest update today. Lester Knight comes unlocked for free, but Viewtiful Joe will set you back $1.99 as an IAP in order to unlock him. Hey, he's a pretty big celebrity, and they don't work for free. If you're simply just scratching your head wondering what this whole Combo Crew thing is, then definitely check out our full review for more info, as well as our forums for more player impressions, as it's easily among the best brawlers available on the App Store and it's been designed beautifully for the touchscreen.