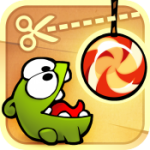 While pretty much everyone and their brother knows Angry Birds, there is another franchise that's just about as much of a household name due to its success on mobile. It's the Cut the Rope franchise from Zepto Lab, and for the first time ever both the original Cut the Rope ($0.99) and the iPad-only Cut the Rope HD ($0.99) have both gone free for the next week.
Cut the Rope became a wild success following its release in 2010 by offering a game that literally anybody could play. A piece of yummy candy dangles from a rope and you simply swipe the rope to cut and release it, hopefully using its momentum to swing it right into the eager mouth of the series' adorable protagonist Om Nom. Of course, various kinds of obstacles and outstanding level designs make this a trickier task than it sounds, and Cut the Rope's simple mechanics lends itself well to that "one more go" feeling that made it hard to put down. And, as mentioned, that Om Nom is just too darn cute to ignore.
If you somehow have never given Cut the Rope a try over the past few years, now is your chance to snag either title completely for free. In addition, while the original Cut the Rope is published by Chillingo, Zepto Lab has two follow-up titles that they published themselves which put a twist on the whole rope-cutting formula. Both Cut the Rope Experiements ($0.99) and Cut the Rope Time Travel ($0.99) are excellent sequels if you feel like you just can't get enough of Om Nom. At the very least check out the original games while they're free as this is a total App Store classic that you won't want to miss.