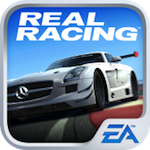 Quick! Smash the Update button on Real Racing 3 (Free). EA has just added some really cool cars to the game. Specifically, it just added Dodge and Shelby muscle cars. And we're talking about the clinch-your-teeth and ride V-8 kind that everyone seems to love.
If you want a closer look, just peek at this teaser trailer below. New series for these cars are in the game now, too, by the way, in case you were worried:
This update also brings in some tweaks. Difficulty, for example, is now reflects "faster and more accurate skill adjustment." Also, the cameras have been improved to enhance the "sense of speed and motion yields." You know — stuff that you'll want when you're rumbling and gurgling down the road in some of the greatest cars ever.