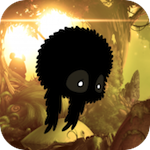 Badland ($0.99) has crushed another milestone, and we're getting a couple of levels and some rad tweaks in celebration of it.
Earlier this morning, Badland creator Frogmind pushed out another update to its physics-based puzzle game, adding four new multiplayer levels to the core experience. Also, this update ushers in some neat improvements, including the ability to continue a level from right where you left off in case you have to close the game. The full update notes are available here.
This is the end result of Frogmind celebrating the fact that the game has hit over seven million downloads since its debut this April. That's, like, a lot.
Badland has had a little help along the way to hitting seven million downloads. Namely, it has received a ton of promotion on the App Store, a lot of great buzz from users and media that play it, and it even earned an Apple design award.
We're excited to see where Badland or Frogmind go next. But, hey, if you haven't given the game a shot yet, definitely consider doing so. It's pretty good.