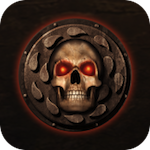 Last December Beamdog resurrected a classic and brought it to an entirely new generation of gamers with the iPad port of the 1998 BioWare RPG Baldur's Gate, but in June we got word that the game had been pulled from the App Store due to "contractual issues" with the game's publisher. Lame.
We later learned that the publisher in question was Atari, and that a significant patch for the iPad port of Baldur's Gate as well as progress on Baldur's Gate 2 for the iPad were halted. Double lame.
Well here's some good news. As reported by Joystiq, the iPad version of Baldur's Gate: Enhanced Edition is once again available in the App Store as well as through Beamdog's website. A follow-up tweet by Beamdog producer Phillip Daigle confirms that news regarding the huge patch for Baldur's Gate and the status of the forthcoming port of Baldur's Gate 2: Enhanced Edition will be released soon as they get back in the groove.
If you were hesitant to pick up Baldur's Gate: EE when it first launched, but then when it got pulled you really really wanted it, now you can finally purchase it through the App Store once again. You can check out our full review of the game as well as impressions in our forums, and once we have news in regards to the upcoming patch and iPad port of the sequel we'll be sure to keep you in the loop.
[Joystiq]