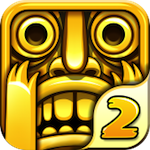 A new update to Temple Run 2 (Free) hit the other afternoon, and it seems like a good one for all of those Temple Run 2 pros out there who've devoured the game.
Starting with the update, you can now run as one of three new characters: Zach Wonder, Francisco Montoya, and Montana Smith. Also, this update added some UI tweaks allowing quick access to challenges and stats.
Temple Run 2 is pretty good, by the way. You should have been playing it yesterday, if you still haven't picked it up. It adds to the original's mechanics without busting up what made it good in the first place, and generally gives players a whole bunch more to do with the loot they earn from a good run.
Oh, and if you haven't played Temple Run in a while check out a neat easter egg we managed to slip in there — go to the menu, tap the more games button, and there's the best games we've reviewed on TouchArcade.