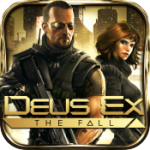 When it was announced that the next entry in the beloved Deus Ex series was going to be a mobile title, people got upset. Then when Deus Ex: The Fall ($4.99) launched last week, some of those people changed their minds, as it was actually a pretty awesome game. (Some people were still very upset, it should be noted.)
Then, people found themselves with another thing to be upset over, as Square Enix and Eidos Montreal snuck in some anti-piracy measures that prevented anybody playing the game on a jailbroken device from firing their weapon. Not just people playing pirated copies, mind, but also people who bought the game legitimately and just so happen to be jailbroken.
Following the backlash from this move, the developers decided to back off that tactic with a future update, and hopefully this roller coaster of emotions can come to an end as that update is now live in the App Store.
The jailbreak fix isn't the only thing in this update though, as there is also improved enemy AI, increases to the credits and XP dished out during the game, improvements to Shotguns and the Combat Rifle, and reduced costs for some weapons. Oh, and Squeenix seems pretty open to additional feedback to, as they've set up a support link to provide them with more if you see fit.
If you're a jailbreaker who had been waiting to play Deus Ex: The Fall, all systems should be go for you. And if you haven't checked out the game yet but like action games and are generally good with playing first-person shooters on the touchscreen, then The Fall is a somewhat short but sweet ride that you should definitely consider taking.