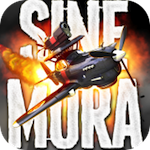 The other afternoon, Jared and I sat down to play a little bit of the iPad, iPhone, and iPod touch version of Grasshopper Manufacture's Sine Mora ($4.99). If you're unfamiliar, it's a wonderfully animated and directed bullet-hell shooter with a really novel time mechanic that actually gives casual players a chance to have fun while giving pros something new to contend with. Also, oh man this game looks so good.
I ended up digging what we saw as we played, which I think says a lot since I'm not the biggest fan of these types of games usually, you know? Below, we've embedded the footage from our session:
Sine Mora is out, for reals, now and it looks like the game's developers are going to be supporting this release with updates down the line. That's pretty cool.