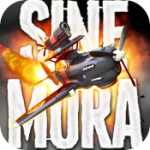 Today an unexpected game popped up in my AppShopper new games feed as Digital Reality's acclaimed side-scrolling shooter Sine Mora made its way to the iOS App Store as a $5.99 Universal app.
Sine Mora originally launched on Xbox Live Arcade in March of last year, with PlayStation 3, Vita, and Windows versions following suit later that year in November. I haven't played Sine Mora before, but love a good shooter, and I absolutely love the visual style in this game. Check out the trailer from the XBLA version.
Unfortunately, Sine Mora promptly became unavailable after its initial release, and I can't currently locate it any any region's App Store. It's possible it was accidentally released, or they realized there was a game-stopping bug and had to pull it, or any number of things. You can still find all the App Store details and screens on AppShopper, so the good news is that I'm sure at some point in the near future we'll all be playing some Sine Mora on our devices.
I'll be sure to update this post with an App Store link should Sine Mora resurface, and I've made sure you can add it to your TouchArcade (Free) app Watch List to get a push if/when it does reappear. In the meantime you can check out some of the impressions in our forums from the few lucky folks who managed to snag a copy in time.
Update: Sine Mora is now available!