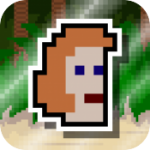 One of the funniest and quirkiest iOS games I've played is last year's McPixel ($2.99) from solo developer Sos. Picture if you will a ton of scenes that feel ripped straight out of an old LucasArts adventure game, complete with crazy puzzle solving logic and all, and then imagine you had to solve the crazy puzzles in each scene in rapid-fire succession like WarioWare, and that should give you a good description of McPixel. Oh, also, thematically the entire game is basically a nod to the MacGruber movie and SNL sketches, which are themselves insane parodies of the '80s show MacGyver.
Following along? Ok good, because if any or all of those different elements sound appealing to you then McPixel is a game you need to check out. Right now it's even easier to do so as the game has currently slashed its price down from $2.99 to 99¢ in celebration of a big new update.
The new update brings more than 50 new levels to McPixel that you can download to the game for free, as well as long-awaited (at least by me) iPhone 5 widescreen support. There is also mention of an orientation lock bug being fixed, if that was something that affected you. If you're still on the fence about dropping the sale price on McPixel, then check out the lite version for a taste of what the game is all about, though note that the lite version doesn't include any of the new features. Either way, giving McPixel a shot in some form is definitely something you should do today, so get on it!