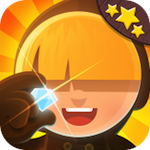 If you need a good puzzle game today, or heck, even a smile, you should probably go grab Tiny Thief (Free). It's a game about small scale crime as the world's tiniest thief. With basic tap commands, you guide the cutest criminal ever past watchmen and guards in attempts to take back what they stole themselves.
As we've been playing, we've noted that the emphasis isn't so much on stealth. It's distraction. Using the environment, you can set off chains of events that keep the guards away and allow you to take whatever you're looking for. The first level, for instance, lets you drop a bucket on the head of a guard, keeping him from seeing you.
We've been waiting for Tiny Thief forever it feels like, so we're pretty stoked that it finally came out. So far it seems totally worth of the early praise, too — this thing is intensely charming, as well as devilishly difficult in spots. We think you'll dig, much like the folks in our forums have been.