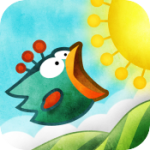 If you were to make a list of bona fide all-time App Store classics, Tiny Wings would be right near the top. It's probably the most widely known "lone developer strikes it big" story, and a true David vs. Goliath story to boot when it went on to unseat Angry Birds from the top of the charts. Beyond all that, though, Tiny Wings is simply a beautiful game from top to bottom. From its art style, to the legendary music, to the brilliant one touch controls, it's as close to perfect as a mobile game can be.
Just about a year ago, developer Andreas Illiger teased a Tiny Wings sequel, but what it really turned out to be was a huge version 2.0 update to the original game which added Retina Display support and basically an entirely new game type. He also released an excellent standalone iPad version of the game featuring all of the new goodies from the iPhone version plus a cool same-device multiplayer mode. A widescreen update later in the year ensured that Tiny Wings continued to stay relevant even after 2+ years of existence.
Right now, for the first time ever, both the original Tiny Wings ($1.99) and the iPad-only Tiny Wings HD ($2.99) are available to download for free.
I don't think I even have to tell you that you absolutely have to download Tiny Wings if you somehow haven't already done so at some point over the past couple of years. Or even if you didn't feel like dropping the dough for the iPad version when it hit, now is you chance to add it to your collection for free. Tiny Wings is still just as fantastic as it was when we originally reviewed it in 2011, and actually even more so with all of the amazing updates it's received. It's a true classic, and should be a mandatory download for everybody with an iOS device while free.
---
UPDATE: MORE FREEBIES
Ok, so Tiny Wings was just the tip of the iceberg of an avalanche of big-time freebies. Wait, do avalanches have iceberg tips? Who cares, just start downloading stuff already. I'm not too sure of the official occasion for all this freebie craziness, but whispers in the wind hint that the 5-year anniversary this week of the App Store opening up shop probably has something to do with it. We'll add any new freebies to this post should they happen:
Superbrothers: Sword&Sworcery, $3.99 – [Review] – [iPad Forum] – [iPhone Forum]
Review excerpt: "Sword & Sworcery is a point and click adventure game with art by Craig D. Adams and music by Jim Guthrie. … The game was built from the ground up with both the music designed for the game as well as the game designed for the music, making it one of the most unique gaming experiences I think I've had on my iPad."
---
Infinity Blade II, $6.99 – [Review] – [Forum]
Review excerpt: "It's a consistently well put together visual feast that shows off what Unreal 3, and now your new devices, can do. And it's great that the core gameplay structure and action model still deliver. Basically everything that Infinity Blade does has been expanded on for Infinity Blade 2. There's so much more to do — so much more to explore and see and learn as you hack-and-slash like a champ through a winding and much more complex environment. Straight-up, it's a great game."
---
BADLAND, $2.99 – [Review] – [Forum] – [TA Plays]
Review excerpt: "It is, like so many App Store games, a one-button physics game: touching the screen causes a troupe of silhouetted gremlins (I always called them "little fatties" in my head) to fly forward and upward; releasing your finger allows them to float to the ground. It's our job to guide the afro-sporting fatties through a perilous swamp rigged with booby traps, buzz saws, pneumatic pistons, and spinning fan blades designed to slice, dice, explode, impale, smush, and otherwise destroy them."
---
Where's My Water?, $1.99 – [Review] – [Forum]
Review excerpt: "Where's my Water? is based on 'Swampy the Alligator', who lives in the sewers and enjoys taking relaxing baths, but unfortunately the other alligators keep sabotaging his water supply, so he needs some help. Our job is to guide the water to Swampy's bath, by swiping tunnels through the dirt, to direct the water's flow. Along the way the water can collect three rubber duckies to unlock subsequent worlds and levels. Your score is based on the time taken to full the bath, number of rubber ducks collected and a bonus for water overflow."