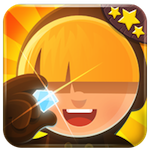 Few games on iPhone or iPad have gotten us as excited as 5 Ants's Tiny Thief has. It's a tremendous-looking point-and-click stealth game that tasks you with stealing treasure as the world's tiniest thief. It's as cute as it sounds, and the animation is ridic. We got to see the game about three billion years ago at GDC 2012, and now it's finally coming out — as a Rovio Stars game, no less, next week on July 11.
Excited? If not, you've got to see this trailer. It should turn you around. How can you not love a game that looks like this one? Oh, man, so good:
We'll definitely keep our eyes open for any builds that might head our way and bring you more on this as soon as possible.