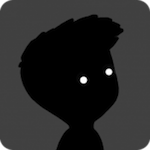 Limbo made a lot of waves back when it first hit Xbox Live Arcade in … wow, 2010? Yep, it hit in 2010. Anyway, folks loved its iconic look, dreamlike scenarios, and downright devious puzzle design, which often forced you to suss out a solution by dying. Thinking back, it was kinda a mean game but I loved it.
Now, Limbo is coming to iPhone and iPad, and we're pretty stoked to report that all the things that made Limbo the celebrated game it is today are all present. The only tweak we've noticed so far, actually, are the controls. On touch devices, you swipe and drag on the screen to jump, pull, push, or walk side-to-side. It's more intuitive than it sounds.
Jared and I gave the game a look earlier this afternoon. If you want to see the game in action, just take a peek down below. Also, don't laugh at me for getting stuck.
Limbo comes out next week on July 3rd across iPhone and iPad as a $4.99 Universal app. Make sure you've got it added to your TouchArcade (Free) app Watch List to get an alert when it finally hits.