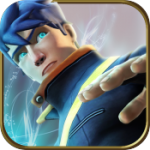 While I'm a fan of action-RPGs on iOS, I always seem to encounter the same problem while playing them: an incessant forcing of the 'console experience' on a touch-screen device.
This usually means an abundance of virtual buttons and gameplay that may not be conducive to portable devices. It also doesn't help that original IPs never seem to put forth the necessary effort to make a compelling narrative. Pixel Hero Games' Spiral Episode 1 (Free) looks to buck all the negative trends I just mentioned, and succeeds beautifully.
Taking the Unreal Engine and fusing it with its own art style, the graphics in Spiral look pretty darn good. A mix of futuristic themes and anime undertones, Spiral actually has a bit of a darker motif, which goes well with the game's overall narrative. One minor annoyance was the fact that a lot of the game's NPCs had similar facial features, but detailed models, a smooth framerate and (mostly) decent voice acting does a good job of covering it up.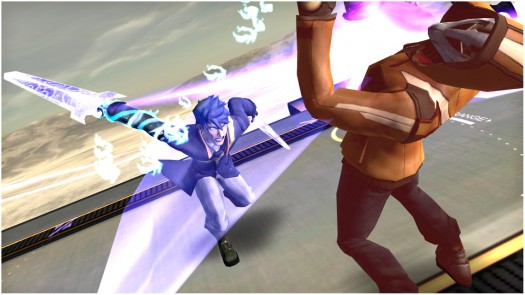 Another area that Spiral succeeds at is with its controls. Eschewing any virtual buttons (with the exception of those launching menus), players move their hero by tapping anywhere on the screen to move to that spot. Double-tapping has him running, and tap-and-holding engages an auto-walk (or run) that you can control by sliding your finger across the screen.
It's pretty intuitive and while it blocks a lot of the screen on an iPhone, it works well on a larger screen. Combat, meanwhile, is as simple as tapping on enemies for normal attacks, double taps for dodging and tap-and-hold for special moves. It works well, although the more hectic battles got a little tough to keep the aim on enemies in motion.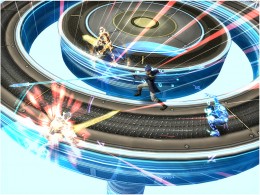 Regardless, I found the combat to be pretty awesome with plenty of different ways to attack enemies and enough defensive and offensive moves to make battles interesting. I'm also a fan of the experience system, which allows players to allocate experience across a multitude of stats and will even automatically assign points through either a balanced approach or an 'auto' approach that analyzes your battle tendencies and attempts to level up your strengths. As for enemy variety, there isn't as much as I'd like, but the epic boss battles make up for the relatively tame normal encounters.
Besides the combat aspects, Spiral also has good variety with its gameplay. In addition to battles, players will also take part in platforming, stealth, and exploration sections in the game. Spiral does a great job of interspersing the right amount of variety between the various elements, meaning that players won't get bored with overtly long stealth or platforming sections, as there's usually a decent amount of combat to mix it up.
Spiral hits all the right notes with gameplay execution, but for me, I'm most impressed with the storyline. Following the exploits of Tempus Azure, a mercenary for hire with technological implants and a mysterious path, Episode 1 introduces the 'Spiral' disease, an affliction that turns citizens into ravenous beings of pure energy. Tempus goes on an adventure to discover the origins of the Spiral disease while attempting to figure out why his own body has been deteriorating.
Spiral is one of the few iOS games I've played where I was not only intrigued by the storyline, but I was sad to see the game end. As you can gather from its name, Episode One is the first in a multi-part story, and I'm pretty curious to see what developments the next episode will bring. For me, this desire is a significant accomplishment and I applaud Spiral for getting it done right.
As you can tell, I'm a pretty big fan of Spiral Episode 1. Not only does it do a great job translating the action-RPG experience to the touch-screen with its controls, but its graphics, combat mechanics, and overall presentation give it a sheen of high quality. The game's narrative does a great job wrapping all of Spiral's components together in a story that's not only compelling but also just interesting. If any of this sounds remotely up your alley, you need to check out Spiral Episode 1.