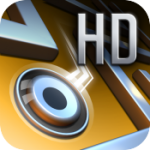 The iOS App Store is kind of a hotbed for played out genres, and when it originally opened in mid-2008 with the likes of Sega's Super Monkey Ball as its star showcase for what was possible with the iPhone as a gaming device, it didn't take long for ball-rollers to begin flooding the market. Just a year later and trying to get excited for any kind of ball-rolling game was like trying to get excited for yet another Bejeweled or Temple Run-a-like, but one game managed to break through that feeling of apathy.
It was called Dark Nebula and it managed to wow us with its fantastic design, flawless tilt controls, and sheer polish. Really the only knock against it was that it was far too short and it left you wanting more, a problem later rectified by the release of a follow-up called Dark Nebula – Episode 2. With a planned Episode 3 it seemed like the sky was the limit for the Dark Nebula series, but unfortunately that Episode 3 never came, and the first two episodes of Dark Nebula have remained stagnant in the App Store for well over two years now.
However, sometimes situations like that have a way of turning themselves around, and sure enough this week sees the resurrection of Dark Nebula by Free Lunch Design as they've just released Dark Nebula HD – Episode One ($1.99). It's essentially an HD remake of the first episode's levels, with an additional 12 brand new, never before released set of levels thrown into the mix as well. As the "HD" in the title implies, not only is Dark Nebula now fit for the taller iPhone 5 screen but it supports Retina Display resolutions and at long last now works on the iPad as a Universal app.
For fans of the original games, this is like a dream come true, but the news gets even better. Free Lunch will soon be starting work on the long-awaited Episode 3, something I truly never thought I'd see materialize. We'll be looking forward to getting more details about that in the future, but for now if you were a fan of the original Dark Nebula games or if you weren't around back then to experience them, then you should definitely be all over this new HD re-release.