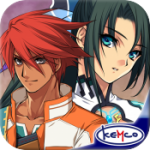 I used to love JRPGs. I played all the classics. The Final Fantasies, the Dragon Warriors, the Breath of Fires and the Phantasy Stars. I've also played the games that came later, the corrupted blood line of the classic JRPGs that established the clichés that now characterize the genre. The evolution of the JRPG could be likened to a graph with a line that rises steadily over time, peaks for a long while and then descends into a long slow slog into oblivion with an occasional brief spike.
Kemco's RPG End of Aspiration ($6.99) sits squarely on the downward slope of that graph. It resides at the far right of the bell curve, populating that endless miasma of forgettable games characterized by endless grinding, painful Engrish and clichéd characters. At the risk of being smug, End of Aspiration isn't just the name of this game, it's a description of its design. It's not all horrible, especially if you love JRPGs. The graphics and animations are excellent, and the game is respectably lengthy at around 13 hours to complete the main quest. If, however, you've burned out on the genre like I have and are looking only for the occasional high quality release, this definitely isn't the game for you.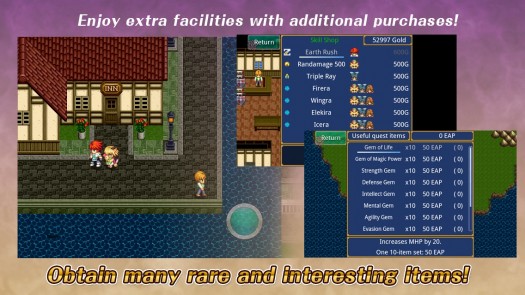 The story is incredibly average and altogether forgettable. Something about an idealistic young woman saving an orphanage and an idealistic young man promoting ethical trade practices and an idealistic martial arts master trying to prevent a rogue student from destroying the world. There are two other characters: an idealistic female martial arts student with no direction in life and a waif of a creature with a caterpillar on her head who must have lost her way during a cosplay event at an anime convention and ended up in this game. Oh, and then there's the mafia, which is trying to take over the world by turning on some abandoned blenders, toasters and microwaves rusting away in an ancient mechanical city. Yes. The mafia. La Cosa Nostra? The Yakuza? I'm not sure.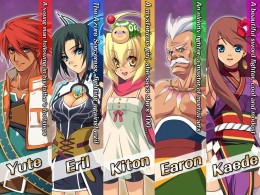 End of Aspiration is one long grinding slog for the most part. Battles occur too frequently and take way too long to complete. It wouldn't be so bad if the length of battles was a result of complicated strategic considerations. It isn't, especially boss battles. Battles are mostly wars of attrition. With the bosses it's even worse. I spent 15 minutes whittling away at the obscene number of hit points allocated to one of the mafia bosses on top of a tower. The boss had absolutely no chance of beating me and I knew it. So I spent 15 tedious minutes chipping away at her hit points until, at last, she died.
The dialogue is uninspired and dull although mostly serviceable. The story itself barely moves the game from one uninteresting event to another. As for the game's use of Engrish, it's not the worst I've seen but it has its fair share of painful moments. My favorite: a young woman who is upset because a local merchants stares at her "busts." I think she meant breasts because bust is the singular term for two breasts, but who knows, maybe she has four breasts and thus two busts. Or maybe she meant bosoms. Wait….
Combat, which makes up most of the game, is typical JRPG fare. Characters walk across the map until an invisible enemy encounter triggers a switch to a side view combat screen. Combat is turn based. Your characters have physical attacks, magic attacks and special mega-attacks. You've seen it all before in every other JRPG you've ever played.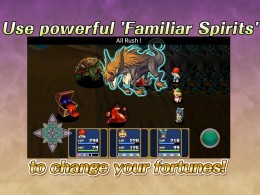 Dungeons are boring and poorly designed. Most of them consist of lengthy twisting configurations that wrap back on themselves or ridiculously long straight corridors designed for the sole purpose of maximizing grinding. The over world map is uninspired and mostly empty. Eventually, you get an airship which allows you to visit other locations but there isn't much to see. The airship is there just to force you to embark on a quest to reach an otherwise unreachable location. There's nothing exciting about flying around and exploring because there's nothing to explore.
There are optional IAPs that provide you access to additional dungeons and special items but honestly I couldn't be bothered to spend more money on an already boring game. The game has music, and that's about the best that can be said of the few tunes that sit barely noticed in the background. The battle music is particularly generic and sounds like Kemco took every combat song from every JRPG ever made, threw them into a blender and used the mashed up end result. Same goes for sound effects.
The touch controls are mostly accurate and easy to use. One problem, however, is the D-Pad, which is placed too close to the character menus that you need to touch to administer potions and healing/status spells. You're forced to spend a ridiculous amount of time hunting for the pinpoint touch spot that isn't covered by the D-Pad. The D-Pad can't be moved either.
It's unfortunate that this game is so bad, because it has a spark of potential in its design framework. The graphics and battle animations are great, at least by 16-bit JRPG standards. It's almost like End of Aspiration is the shell of a great game that left all the really good parts behind.
It's tough to fill your JRPG craving these days. There's the Playstation Vita, I suppose, but I don't actually know anyone who owns one, and the same goes for the Wii U. Then there's the Nintendo DS and 3DS, where you'll find the occasional Tales of Such and Such game once or twice a year. SquareEnix has been doing a pretty good job of rereleasing its flagship titles onto iOS. Then there's Kemco, which has been releasing new titles on what feels like a monthly basis. Kemco is also aggressive about discounting its games at release and at frequent random times throughout the year. Some of their games are pretty good. Unfortunately, End of Aspiration isn't one of them.