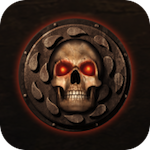 Nothing has changed since Baldur's Gate: Enhanced Edition was pulled from the App Store a couple of days ago. It's still gone, in other words, and obviously there wasn't a quick fix in the works to hammer out the "contractual" issues that got it yanked. But, there has been a bit more talk out there since the news broke. In short, we've now got a better idea of how long this might go, as well as an update on the prospect of a Baldur's Gate III, which is a game Beamdog apparently wanted to do down the line.
Rock, Paper, Shotgun got hold of Beamdog president Trent Oster and asked about BG III. His reply:
"The prognosis [for resuming work on Baldur's Gate] is mixed. Best case, we can sort this out soon. Worst case, this could be in legal hell for a while. I like making games, but this contractual dispute bullshit keeps me up at night."
That's an interesting quote that sheds a bit more light on all of this. Certainly seems as if nothing is going to get resolved quick, at least. Not a pretty picture.
[via Rock, Paper, Shotgun]