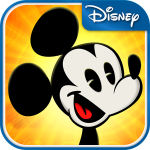 I've always been quite fond of Disney Interactive's mobile games simply for the fact that they're one of the few big production companies that has a dedicated mobile team. They got the ground running by acquiring Jelly Car  (Free) and buying Tapulous, the studio behind the popular Tap Tap Revenge ($2.99) series. As a team, their biggest hit so far is Where's My Water? ($1.99). This Thursday, they're showing all their cards on the table and giving their biggest character an iOS game of its own in Where's My Mickey?
First off, if you're a big Mickey Mouse (and gang) fan, you'll be happy to hear that the Mouse house has decided to revive the good ol' Mickey Mouse shorts and bring them to 2013. These three and a half minute new shorts will begin rolling out on Disney Channel and many other Disney properties beginning June 28.
Additionally we got to preview 2 of the 19 total episodes for what we would assume is just the first "season" during last Friday's studio visit. Disney promises each episode will be a breathtaking and unique experience pulling from different aesthetics in the company's huge Mickey vault.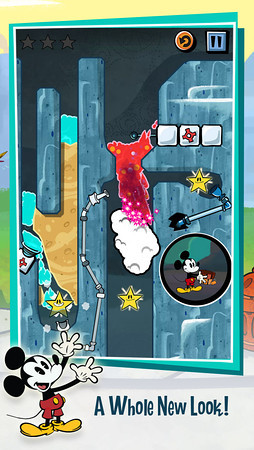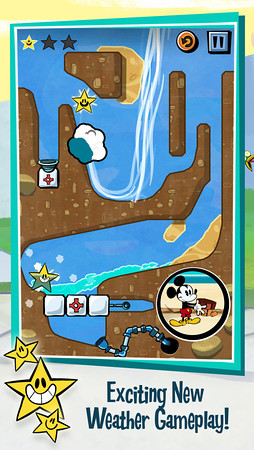 Here are some episode summaries for the first few to roll out:
Among the cartoon premieres are "No Service," in which Mickey and Donald try to buy lunch from a beachside snack shack but are unceremoniously turned down because of the classic "No shirt, no shoes, no service" admonition, Friday, June 28; "Yodelberg" where Mickey longs to visit Minnie atop her mountaintop chalet but quickly realizes that the threat of avalanche has made the trek up the mountain more challenging than usual, Saturday June 29; "New York Weenie," where the hot dog Mickey buys for his beloved and very hungry Minnie ends up taking him on a energetic chase through New York's Central Park, Friday July 5; "Tokyo Go," which finds Mickey fighting Tokyo's crazy commuting crowds aboard the bullet train, Friday July 12; and "Stayin' Cool," in which Mickey, Donald and Goofy must find creative ways to keep cool on the hottest day of the year, Friday July 19.
More than a full week before the shorts' launch, Disney Mobile is rolling out a brand new iOS game that has a caliber of becoming their most popular game so far. In this new game, the "Where's My?" series moves above ground and will be based off the upcoming Mickey Mouse shorts. There will be five level packs at launch. Three of them will be free and two of them are paid "Goofy" level pack off shoots.
What makes this different is the addition of an actual storyline AND animated shorts embedded on each level. For example, the fire episode/level pack where Mickey has to put out a fire seamlessly cuts between gameplay and animation. You'll see Mickey's story introduced, and you're plopped back in to the gameplay. As you produce water by completing the level, you see the water go directly in his bucket and whether he gets to put out the fire or not is for you to see.
Another addition I like is the presence of 20 "XL" levels for tablets. These are bigger and more "zoomed out" puzzles for iPads and other Android tablets. If you've always felt like the previous puzzles are too easy, get ready to be challenged. Where's My Mickey? launches June 20 for $0.99 on phones, $1.99 on iPads and Android Tablets, and finally, Windows Tablet and PCs for $4.99!
We will have a full review shortly after the game launches, but something tells me you Where's My Water? and Mickey Mouse aficionados are already lining up for this game.