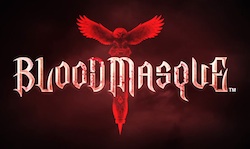 Sunlight! Crosses! Garlic! These are all things vampires Do Not Want. I've learned this from reading the finest of literature, my friends. Oh, and another thing vampires don't like? Your face. That's not a slam. It's another Vampire Fact that I just picked up from watching footage of Square Enix's new vampire-themed action RPG, Bloodmasque. I think it's an incredible game, and not just from an academic perspective.
It appears to play pretty similar to Infinity Blade. In the game, you control a vampire hunter with some sick sword skills and a hearty desire to rid late 19th century Paris of its vampire problem. Using swipes and gestures, you'll be able to do just that in over-the-shoulder action. The twist? You can import your own photo and the game will use it to customize your character. Here's that video I was talking about:
Bloodmasque is due out "this summer" across iPhone, iPad, and iPod touch. It's also at E3 this week, so we'll definitely be grabbing you more details in the future.