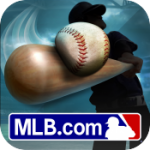 Baseball season is in full swing, and in celebration of the 2013 All-Star Game coming in July Major League Baseball has released MLB.com Home Run Derby (Free), a free-to-play game that puts you in the shoes of an actual MLB player as they try to become the winner of the Home Run Derby competition. While the core game at the center of Home Run Derby is solid, and visually it looks great, the whole thing is hampered by a stingy free-to-play model that pretty much ruins what would have been a fun little mobile game for baseball fans.
The game uses a dual-currency system, MLBucks and coins. At the onset you're given enough bucks to purchase one lower-tier player from all the players who have participated in the last three Home Run Derbys. You're then given the option to play either of the game's two modes: the Home Run Derby itself or Arcade mode. Both can be played in single player or in online multiplayer.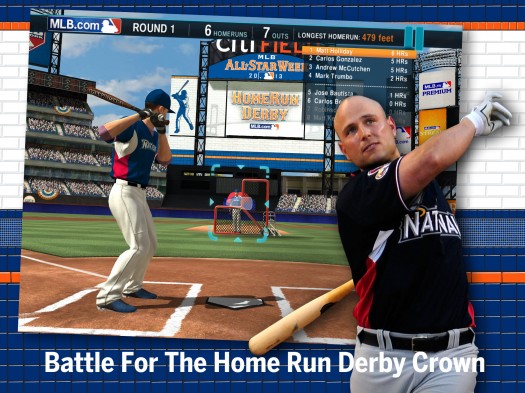 The Derby follows the normal rules of the actual competition. There are three rounds with the top performers moving on to each next round. You get 10 outs per round, and anything that isn't a home run counts as an out. It will cost you one "ticket" each time you play the Derby mode, and you earn more tickets by either waiting for a timer to expire or purchasing them as IAP. You can also buy a couple of different "doubling" IAP packages which let you hold more tickets at a time and decrease the wait time between earning free tickets.
As you'd expect the ticket system kind of sucks, as it's the hard paywall you'll hit that prevents you from playing the game's main attraction, The Home Run Derby. As you unlock more players the cap for total tickets you can hold at once goes up, but earning enough bucks to unlock players seems like an effort in futility. They just cost too much. I'll be grinding away with my lower-tier Hanley Ramirez for a long, long time before I've earned enough to get even a second player.
The saving grace of sorts is the Arcade mode. Here you don't need tickets to play, and it's a timed mode that sees how many home runs you can knock out of the park, with each one adding more time to the clock. There's also bonus multipliers you can hit outside the confines of the field walls. It's fun, but there's no way to earn MLBucks playing this mode, only coins, so if you're in need of the premium currency in the game then Arcade mode isn't the place to earn some.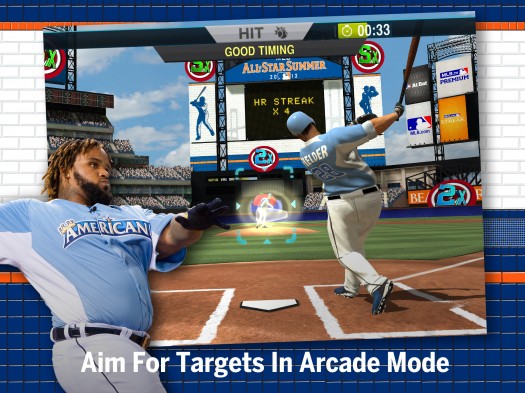 There's plenty more in Home Run Derby like special power-ups you can buy for your player, and everything is pretty much intertwined with the dual-currency system like a typical freemium game. It's a shame, because Home Run Derby uses a nifty "touch-and-drag to aim, release to hit" control system that feels great for a simplistic arcade game. It's a fun game to play… when it lets you play it. It just feels like it could have been so much more.
At any rate, it's free to download and check out for yourself. If you're a baseball fan, there aren't many options for an authentic experience on the App Store, and MLB.com Home Run Derby is a great effort in that direction that's hampered by its stingy pay model.