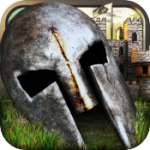 Foursaken Media's castle defense third-person hack 'n slash mashup Heroes and Castles ($1.99) has just received another massive update adding all sorts of new goodies to the game. You might remember that we thoroughly enjoyed Heroes and Castles when it came out in January, and the very next month a huge version 2.0 update hit which sweetened the deal even further by adding a competitive multiplayer mode, a single-player Siege mode, and a trio of brand new character classes to play as.
Today's update, which is significant enough to be called version 3.0, again adds a trio of new characters. First off is a female Assassin which gives you a sneakier way to dispatch your enemies. Next up is a Barbarian who has a unique "risk vs reward" attribute that seems him getting stronger as his health gets lower, which should make for some interesting tactics. Finally there is a Druid who uses nature and various kinds of spells to augment the units under his control. The Assassin comes free for everybody, while the Barbarian and Druid are unlocked using gems like the rest of the characters in the game.
In addition to the new characters, a new 20 mission campaign has been added which continues on from the end of the first campaign, and is balanced for players who have beaten the first. It features a new beach environment and new enemy types. There are also several new ally units that you can utilize, like a long-ranged Hunter, heavily armored Dwarves called the Iron Helms to beef up your front lines, two new types of Wizards, and a very powerful (but very expensive) Dwarven Tank which sounds pretty bad ass. Speaking of ally units, you'll be able to level up your buildings and units by 3 additional levels thanks to the new update.
All of this new Heroes and Castles version 3.0 content will be available in versus and co-op, and there's a new multiplayer map to battle it out on as well. If you have a higher-end iOS device you'll also be treated to real-time shadows, and Foursaken has lowered the RAM usage on lower-end devices which should help with of the crashing issues some people had been experiencing. Of course, there's many other tweaks and fixes under the hood in this update too.
Heroes and Castles just keeps getting better as time goes by. There is a full-featured free version which will let you give it a spin risk-free, though the version 3.0 content in that version had a slight hitch and is still waiting for approval from Apple. Seriously, Heroes and Castles is truly awesome and players in our forums have been loving it since day one, check it out if you haven't done so already.