It's Wednesday again, which means a slew of new iOS games have been releasing into the various international App Stores all day, and have finally arrived in the US App Store right… now! Or in the next few minutes, at least. These things take time, ok? The long, long, looonnngggg awaited Star Command will likely be the most buzzed about release this week, but as the day has gone on there have been a decent number of new titles popping up to flesh out this week's offering. Following is a collection of relevant information and links for all the new releases from today and even a couple from the past few days.
---
Better Than Portal
First Impressions: NOPE: 'Better Than Portal' Is Not
In Better Than Portal, you control a kid with whacky hair and a portal gun across a host of chapter-based levels that range from a reactor to an underground lab to a forest. In each level, the goal is to reach a purplish orb thing, usually tucked well and away from the kid. Getting to the orb requires use of the portal gun, which when used, can create tears in the universe allowing for easy teleportation of the kid and other objects such as, say, boxes. As the game ramps up, it introduces obstacles like laser grids, which you'll need to turn off by, generally, finding a box to drop onto a switch.
Forum Thread: Better than Portal – (by POPS Worldwide)
---
Dark Avenger
First Impressions: Gamevil Throws Its Hat into the 'Diablo'-like Ring with 'Dark Avenger'
In a nutshell, Dark Avenger is another crack at a mobile version of Diablo. They were beaten to the App Store by Gameloft's recently released Dungeon Hunter 4 and I'm super curious to see which will end up being the champion of this proverbial dungeon crawling cage match.

Impressions on our forums generally seem to be positive, although multiple members have mentioned that the game feels a little flat. That echoes my experiences as well, although admittedly I'm very curious to see if/when the game opens up at all to anything more than mindless monster mashing.
Forum Thread: Dark Avenger – (by GAMEVIL Inc.) [Universal]
---
Emilly In Darkness
From App Store Description:
"Emilly In Darkness" is an old school action-adventure game in which on one hand the character shoots, sets traps and learns new skills, but on the other hand the character must navigate a gloomy, complex world with a twisted and unpredictable plot, highlighted by cut-in animations and conversations with NPC's.

"Emilly in Darkness" tells the story of Emilly who, for reasons unknown, wakes up alone in a dark forest, and after a few moments is fatally gunned down by an unseen assassin. However, she does not die, at least not in the traditional sense of death. Instead, Emilly finds herself suspended in a grim and odd place, not so different from hell. She is lost, alone, surrounded by demons, and oddly enough, other forlorn people, people whose intentions are not always clear. This is just the beginning…
Forum Thread: Emilly In Darkness – New dark action-adventure game.
---
Harbinger Wars: Battle For Las Vegas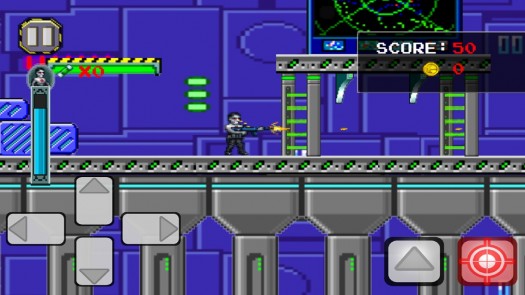 From App Store Description:
Out of the pages of Valiant's smash-hit summer crossover event and onto your favorite mobile device, Harbinger Wars: Battle for Las Vegas is a first-of-its-kind gaming experience that mirrors the events of the ongoing Valiant comic book storyline by Joshua Dysart, Duane Swierczynski and Clayton Henry.

Developed in concert with Storm City Entertainment and Gameshastra, Valiant's first mobile game comes complete with an all-original 8-bit soundtrack, a wide array of Easter eggs for longtime gamers and Valiant fans, and gameplay that emulates some of the most well-remembered console classics of the 1980s.
Forum Thread: Harbinger Wars: Battle For Las Vegas – (by Storm City Entertainment) [Universal]
---
Junktopia
From App Store Description:
Collect, recycle and test your skills as you traverse the galaxy in your own interstellar garbage scow.

FEATURES:
-Dead simple one touch controls
-Awesome original soundtrack
-Tons of levels and junk
-Endless High score mode featuring Game Center leaderbaords
-Collect Legendary junk and unlock a Game Center achievement for each one.
Forum Thread: Junktopia – (By Mobot Studios LLC) [Universal]
---
Mind Blitz
From App Store Description:
This isn't your standard matching game. It is a beautifully designed game that has achievements, high scores, penalty cards and power ups. It is your childhood matching game meets action puzzler. Work your way through levels unlocking achievements and gaining power up points to purchase power up cards to assist you in the levels. Game Center support for High Score and Achievements.
Forum Thread: Mind Blitz – (by Reuben's Apps) [Universal]
---
Ninja Striker!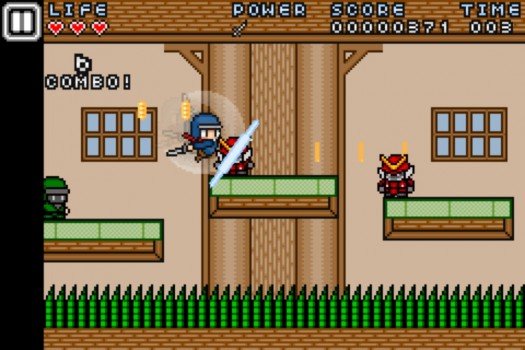 From App Store Description:
*Exciting Ninja Actions!
*Original touch controls for Ninja Actions!
*10 more items!
*20 more Enemies!
*Retro style pixel art and chiptune music!
*Game Center support!
*Japanese Ninja world!
Forum Thread: Ninja Striker! – (by Rogue Ninja)
---
Oh My Heroes!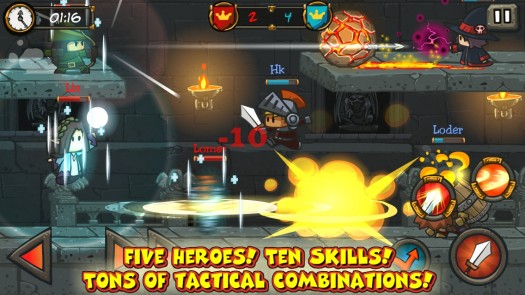 From App Store Description:
– Real-time online multiplayer Death Match, Team Death Match and King of the Hill.
– Fast pacing fun hack and slash.
– Five different heroes with ten unique skills.
– Various cooperative and competitive strategy among teams.
– Simple and easy to learn, hard to master.
Forum Thread: Oh My Heroes! – (by Triniti Interactive Limited) [Universal]
---
Paper Titans
First Impressions: Blitz's Papercraft-Powered 'Paper Titans' is a Neat Looking Game that Lacks… Something
Paper Titans is a 3D puzzle platform game. In it, you "make" a bunch of odd-looking paper creatures and then search for stars and postcards across a host of same-y, or even recycled, levels. Each one has three stars that you can collect, but the card is the end goal for whatever reason. Monster movement is handled by a line-drawing mechanic similar to the one in, say, Spy Mouse. Just tap the monster and drag a line to where you want him.
Forum Thread: Paper Titans – (by Blitz Games Studios Ltd) [Universal]
---
Sorcery!
First Impressions: 'Sorcery!' is An Impressive Digital Conversion of Steve Jackson's Classic Gamebooks
Sorcery! plays like a gamebook mixed with a board game. The actual chunks of text glide elegantly into view with the various options for you to choose presented at the bottom. As you make your choices, more of the story glides in with even more branches to choose from. In between the reading, you'll direct your character around a gorgeous 3D overworld map, again making choices on which path to take through the terrain.

The game does a great job at hinting towards what might await behind each choice you make, whether it's clueing you in on the demeanor of the intimidating stranger you meet in a tavern or what sort of perils (and possible rewards) await you if you choose a given path through the countryside. Being that I'm not exactly a gamebook aficionado, I've found Sorcery! completely approachable so far, and I'm hooked enough on my current adventure already that I can't wait to see it through.
Forum Thread: Sorcery! – (by inkle) [Universal]
---
Star Command
Video Preview: TA Plays: 'Star Command' – A Brutal And Quirky Sci-fi Sim
At the top level, Star Command is a sci-fi simulation game that focuses on the real guts of an interstellar ship — you know, the people, the facilities, and the technology that makes travel and battle possible. As far as feel goes, it's something of sci-fi slugfest where you find yourself limping out of every battle in a charred ship that's being staffed by a skeleton crew because everyone either (a) got sucked out of the hull, (b) got incinerated by phasers, or (c) died in a fire. I'm not really sure that this is the feel that creator War Balloon was ultimately looking for, but this is how it came across to us for the first couple of hours. And, spoiler, this is a pretty cool thing.
Forum Thread: Star Command – (by Star Command, LLC) [Universal]
---
Stick Stunt Biker 2
First Impressions: 'Stick Stunt Biker 2' Continues the Confusing Popularity of the Original
Gameplay is similar to the first, placing you on a little dirt bike and tasking you with making it through a series of jumps and obstacles as you motor towards the finish line of each level. Simply touch the right side of the screen to accelerate, touch the left side to brake, and tilt your device to rotate in the air. It's the same formula used in plenty of these kinds of games, and it works just fine.

One of the coolest features of Stick Stunt Biker 2 is the ability to unlock new kinds of bikes, like a burly Chopper, a Police Motorcycle, or the hovering Future Bike. Each new vehicle comes equipped with their own unique set of attributes and physics behavior, giving you a bit of a different experience playing through the levels with them.
Forum Thread: Stick Stunt Biker 2 – (by Djinn Works) [Universal]
---
Zoombies: Animales de la Muerte!
From App Store Description:
Armed with hatchets, roman candles, and even a chupacabra, you'll trace a path with your finger and watch your weapon hurl through these immortal enemies. Each level requires timing, strategy and precision to complete the Sugar Skull Missions and rescue your friendly animales before they become brain-eating Zoombies themselves. Collect golden pesos to earn Especiales upgrades like slippery Guacamole, La Bomba, and stampeding Elefantes to thwart the unending hordes of Zoombies!
Forum Thread: Zoombies: Animales de la Muerte! – (by High Voltage Software) [Universal]