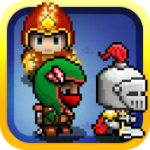 NimbleBit's Nimble Quest (Free) has become my go-to iOS game for when I've got a few minutes to spare, and while I'm nowhere near good enough to unlock all the different dudes you get, it's awesome to see there's new content on the horizon. In a teaser video posted to the Nimble Quest Steam Greenlight page the Brothers Marsh revealed Bolas, who is "an elemental monk from the eastern planes." He's rocking light armor and shoots a spinning disc-like affair that explodes on impact.
Here's Bolas in action:
Bolas is "coming soon" which basically means as soon as NimbleBit can get an update through the giant Apple approval automatron. If you haven't tried Nimble Quest, now's a good time to do so, especially with NimbleBit exhibiting that they're committing to adding new content to the game. In our TA Plays video we get in depth, and describe it as "like Snake, but way cooler."
Seriously, check it out.