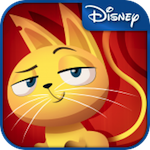 If you dug Cut the Rope, you'll probably dig Mittens ($0.99). It's the latest game from Disney, and it's undeniably inspired by ZeptoLabs fantastic — and ultra-successful — physics-based puzzle game. In Mittens, you control a cat across a variety of levels in a quest to reach milk, mice, or, oddly, balloons. You'll swing on ropes, you'll cut ropes, and you'll even fire the little guy from a cannon through fiery hoops.
Simplistic one-touch gestures make this a breeze to play, and while it's totally a good and competent game, it's hard to shake the impression that Disney only wanted to make a "safe" title and not necessarily a brilliant one. It's charting, though, unsurprisingly.
Jared and I gave it a look just a few minutes ago and thought it'd be rad if we shared our initial impressions with you:
Mittens is available now on iPhone. There's an HD version for the iPad, too, if you're into that. Note: we accidentally call it a "universal" game in the video and say it's price is free; whoops!
.