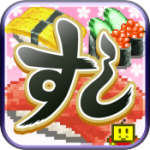 Masters of the pixelated career simulation Kairosoft are back at it again on iOS with their just-released Sushi Spinnery ($4.99) which dropped on the App Store early this morning.
As you might be able to guess if you're familiar with Kairosoft's ways, Sushi Spinnery is all about running a sushi restaurant. In fact, a main feature of your restaurant is a motorized "sushi boat" which spins around and offers customers a selection of your delectable menu items from the convenience of the rotating conveyor belt. It's the future of eating!
It appears that Sushi Spinnery is your standard Kairosoft fare, which is always great from a gameplay standpoint but brings a few recurring disappointments like lack of iPhone 5 widescreen support, no Game Center, and kind of half-hearted iPad support, though the title is Universal.
Still though, Kairosoft games are some of the most engaging simulations around, and if you're a fan of their brand of games then you'll likely enjoy this latest release, which has been out on Android for nearly a year. Stop by our forums for even more Sushi Spinnery impressions from our community.