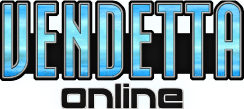 If you've been into the MMO scene for the past ten years, chances are you're familiar with a space combat game called Vendetta Online. And if you are, and you're a fan of the game, chances are you'll be pretty excited to hear that Polygon reports Vendetta Online is set to hit the iPad on April 17th.
I'm not an MMO man myself – the world of video games is big and I never really ventured into that neighborhood. But if a game that launched in 2002 has a strong enough user base to continually be active and updated for over a decade, it's got to be doing something right. Color me interested.
Vendetta Online will feature cross-platform play, and is already available on Windows, Mac, Linux and Android. Developer Guild Software sounds like they aren't making many compromises for the iOS version, and hope it's a seamless transition for players to go back and forth between mobile and desktop versions.
The game sounds absolutely huge too, with more than 7000 different regions to explore and deep customization and character progression systems. Polygon also has a very nice hands-on preview of Vendetta Online from GDC last week which is worth checking out.
Vendetta Online will launch for 99¢ which will get you a month of free online play, and it will run you a $1 per month subscription to keep it going. I'll be curious to give it a try when it hits the App Store on April 17th.
[Polygon]