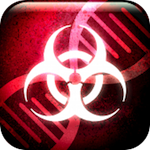 Of late, we've been thinking a lot about how sickness travels from person-to-person and that kinda got us back into the Plague Inc ($0.99) mood. Released back in May 2012, Plague Inc is a simulation game that puts you in the shoes of a deadly plague's manager. Basically, you make a plague, mutate specific parts of that plague, and then watch it spread across the world. If you're a good enough disease designer, you'll annihilate the entire planet. If you suck, the world will scramble together a cure before the curtains close.
It might be a slow game, but it's an intensely interesting one, as you've got to quickly and constantly make decisions based on where you plague is, where it needs to go, and what kind of folks it needs to infect. People have been loving this game and creator Ndemic Creations has done an awesome job with releasing a ton of post-release support.
Jared and I spent some more time with it the other afternoon. Check it out, if you haven't yet:
Plague Inc is available as a paid app and you can get a bunch of new mutations and two new modes via IAP.