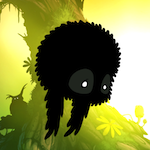 Frogmind's Badland ($0.99) is an interesting 2D, side-scrolling platform game with a touch of puzzle thrown in for good measure. In it, you control a bulbous flea-looking… thing and traverse a forested environment. As you go, you'll pick up various power-ups that change your size, speed, and number. All this stuff comes in handy since your neck of the woods has been corrupted by machine parts and traps that require your attention.
It's out now and we're thinking you'll want to check it out, just like we have. The one-touch controls are a breeze to master and the puzzle design (which leans heavily on physics) is both frantic and thoughtful. Jared and I gave it a spin just the other afternoon to give folks a tour:
We'll be following up on this again in the near future, but go ahead and buy this thing if what you've seen has clicked with you. Badland is good.