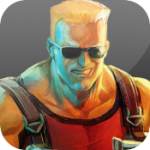 It's Wednesday and while we're staring down the barrel of a whole heap of new iOS games hitting tonight, Duke Nukem 2 ($0.99) apparently decided to jump the line and just hit the App Store now.
It's crazy to think it's been so long, but Duke Nukem 2 was actually originally released as a shareware title twenty years ago. Unlike Duke Nukem 3D which you might be more familiar with, the first two Duke titles were actually sidescrolling platformer style games. The series wouldn't actually make the jump to the 3D glory everyone remembers until three years later in 1996.
If you're more fond of the 3D variety, that's cool, as Duke Nukem 3D ($1.99) has been on the App Store for quite some time now, although we aren't that crazy about the controls. They've been tweaked a bit since the initial release, but they're still not that great.
We're going to spend some more time with the game, as it just hit the App Store, but if this is something you've been looking forward to since we first posted it was coming… Get ready to kick ass and chew bubble gum?