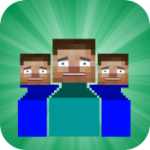 We are literally buried with GDC 2013 meetings and coverage, but something popped up on our forums today that caught our eye and we just had to let you know about it. It's called Multiplayer for Minecraft PE ($2.99), and it apparently does exactly what its title suggest: allow you to join and host multiplayer servers for Minecraft – Pocket Edition ($6.99).
As I mentioned, we're swamped at the moment so we haven't fiddled around with the app ourselves just yet, but our forums are abuzz with talk of the release and it seems that Multiplayer for Minecraft PE indeed works as intended. It even includes a ton of features like voice chat, private servers, user management, and more. And besides the initial download price, the service is free. The one caveat, if you can even call it that, is that it only works over WiFi, not 3G or LTE. Also, in case it wasn't obvious, you'll need to own either the free or paid version of Minecraft – Pocket Edition.
You might remember that Mojang is readying an official multiplayer solution for Minecraft – PE in the form of Minecraft Realms, but that service will require a monthly fee of some kind, whereas this app is free to use. So if you can't wait the month or so for Minecraft Realms to hit, or you aren't down to pay a monthly fee, Multiplayer for Minecraft PE might be the thing for you.
It'll also be interesting to see how Mojang reacts to an app like this, as it's obviously eating their lunch in terms of offering an online multiplayer service that they're hoping users will pay for. Everything appears to be on the up and up with what Multiplayer for Minecraft PE is doing, but it's possible Mojang may try to block the service somehow when they update Minecraft – PE next, or something along those lines.
Just something to keep in mind before you drop the $3 on this app, and until we have a chance to check things out for ourselves we can't fully endorse Multiplayer for Minecraft PE just yet. But hey, if you're dying to get online in Minecraft – PE then for $3 it might just be worth checking out for yourself.