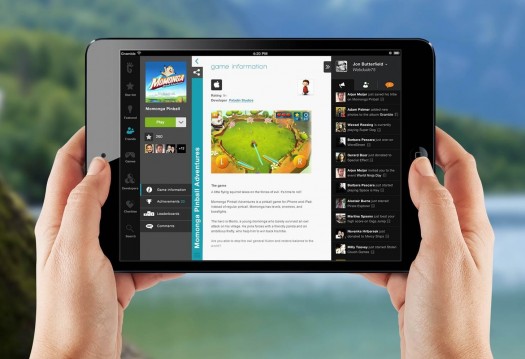 For us, GDC is mostly a time to check out and showcase a variety of iOS games making their way down the pipe. However, as one can imagine there's far more going on at a conference of this magnitude than simply a hotbed for pre-release games.
For example, we had the opportunity to sit down and speak with Gramble. Acting as a back-end for community organizing and IAP management, Gramble is reminiscent of the now defunct OpenFeint (or any of the other similar social systems that hooked onto games). However, while most of these other systems focused primarily on friend list management or as a means to pimp out other titles that utilized the system, Gramble seeks to also become a driver for charity.
Essentially, developers that utilize Gramble in their games make a commitment to have charity driven ads. The group works with a plethora of organizations and allows devs to select a charity of their choice (assuming the charity is on their list). Gramble doesn't take any money directly from the developers; instead the charity portion of it is derived from ads. Meanwhile, the use of the SDK is completely free and developers can choose what features to include in their games.
So, other than the warm and fuzzy feeling associated with charity, what else does Gramble have to offer? The core benefit that seems to be offered to developers in return is the simple fact that they will be featured in a community organization dedicated to charity. In essence, players that become engaged in Gramble will want to support other games that are also engaged in charitable contributions. This 'discoverability' can be applied to new games, or can be used as a method of rediscovering games that may have already had their initial publicity runs.
In addition to the charity slant, Gramble also seems to do a decent job tying in social elements in a seamless fashion. The beta version of the overlay looked smooth and well organized, with Facebook integration, along with the expected friends list, achievements,   cross-game chat and featured game sections that have been seen in other social backends. I was actually a big fan of the way the overlay currently looked, and while it was stressed that design elements weren't finished, I hope that they end up looking similarly to what I saw.
Personally, I'm not entirely sure if the iOS community is looking for another social platform. However, Gramble deserves some attention if only for its emphasis on charity. Unfortunately, details are relatively sparse at this moment; questions such as what games will support it or the entry criteria for developers wanting to incorporate it were unavailable. Still, it's a sure bet that we'll be seeing iOS games in the future taking advantage of this interesting system and I'm curious to see if it'll take off.