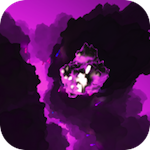 Melodive ($1.99) is a weird, laid back experiential kind of game. There aren't any enemies or platforms to climb or towers to build. It's just you, music, and a world that lives or dies based on how well you can keep up with a meandering tune while soaring across and into an alien planet brimming with psychedelic mushrooms and oddities. You'll see what we mean if you take a look at our video or check out our review.
In our TA Plays, we attempt to keep in tune for three attempts, one of which was a good "run" by our standards. We also bring some news: version 1.1 of Melodive is about to be submitted to Apple by the game's creator. In addition to bringing a "no gravity" mode to the experience. A later update will also introduce new music via IAP. That's pretty cool.
Anyway, check out what we've got. We're pretty sure this is a game that's never really been done before.