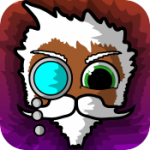 Late last month a crazy new game called Towelfight 2: The Monocle of Destiny (Free) hit the ol' App Store from a developer called Butterscotch Shenanigans. You could tell by the title of the game and the name of the studio that this isn't a game that takes itself too seriously, and that's one of the big reasons we were drawn to Towelfight 2 – it's jam packed with wackiness. You can read all about the crazy antics in store for you in our review of Towelfight 2 or see it in action in our TA Plays video.
While there was a ton to enjoy about Towelfight 2 and we loved its humor, what we didn't love as much were the controls, and that seemed the consensus among other players as well. Something about them just felt "off" compared to other dual-stick shooters, and there was a lack of options for customizing them – something that's important for a touchscreen game.
Today the Butterscotch folks look to address this with a new update to Towelfight 2, and I think they nailed it. You can now position the controls in the lower corners of the screen, which feels a lot more natural to me. The visual d-pads have also been made slightly larger and you can toggle whether you want them to be "floating" or "fixed."
Besides the tweaked controls, there's a lot of other new stuff in this latest Towelfight 2 update. The Arena has seen adjustments to enemies and challenges, and there's two brand new modes: the Endless Arena and the Insane Arena. There are also three new 'Jectiles which cannot be bought in the in-game store, but rather must be earned by defeating the boss in each of the Marsh, Forest and Nightmare zones. Finally, a new NPC named The Bagician can offer you powerful 5-minute enchantments when you need a little extra something something.
There are lots of other little tweaks and fixes in this update, but the bottom line is that if you tried Towelfight 2 before and thought it controlled kinda weird, give it another shot after this update. It's made a big difference for me, and the folks in our forums seem to be quite pleased with it as well. More is in the pipeline for Towelfight 2 too, including Game Center integration, so definitely give this unique and funny game a look.
Update: The developers have dropped the price to 99¢, go go go!