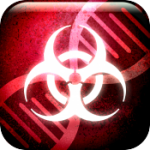 The latest update for Ndemic Creation's Plague Inc. ($0.99), which adds the zombie-like Necroa Virus as a new tool for destroying all of humanity, has now gone live in the App Store. As we detailed for you last month, the Necroa Virus seems like your typical everyday deadly plague at first glance, but it actually contains some very interesting behaviors.
One branch of its mutation will turn its hosts into reanimated corpses, and you can actually use this new zombie population and its thirst for human brains to your advantage by directing them to feed on those pesky healthy people of the world. While a normal cure won't do a whole lot against zombies, you will have to watch out for a new group of zombie fighters called Z Com which will try to thwart your infection efforts.
It all sounds extremely awesome, and if you're an official Plague Inc. bad ass and are able to complete the game on brutal difficulty then you can unlock the Necroa Virus content for free. If you're like me and are terrible at this game, but still love it to pieces, you can unlock the Necroa Virus for a $1.99 in-app purchase. And whether you buy the new content or not, this update will give all players some welcome improvements to the user interface, balance and AI tweaks, additional language options, and improved performance on all devices.
Make sure to head over to the App Store to check out the latest update to Plague Inc. and hit up our forums to talk about strategies, get assistance, or just brag about your proficiency in exterminating humanity.